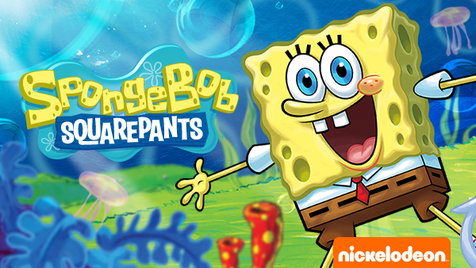 Are you ready kids?
Aye, aye, captain!
I can't hear you!
Aye, aye, captain!
Ooooooooooh
Who lives in a pineapple under the sea?
SpongeBob SquarePants!
Absorbent and yellow and porous is he!
SpongeBob SquarePants!
If nautical nonsense be something you wish!

[ From: http://www.elyrics.net ]
SpongeBob SquarePants!
Then drop on the deck and flop like a fish!
SpongeBob SquarePants!
Ready?
SpongeBob SquarePants, SpongeBob SquarePants, SpongeBob SquarePants
SpongeBob SquarePants!
SpongeBob SquarePants!
Ha, ha, ha
Ha, ha, ha, ha, ha
So, the big question is: Is Spongebob in the Looniverse or the TVCU? He seems to have crossover connections to both. Perhaps Bikini Bottom is indeed one of those bordertowns, like Toon Town, that sits within a portal between both worlds. Since it's under the sea, it's less noticeable.
Anyways, let's look at the chronology:
1946 to 1958--MOSTLY HARMLESS/UNREALITY MAGAZINE--Or, if you don't like the Looniverse angle, there's this article and the following article.
1999 to Present--SPONGEBOB SQUAREPANTS--The life of a fry cook sponge living in Bikini Bottom.
We know that
SpongeBob
exists as a show within the secondary
Nick Verse
because Patchy the Pirate is a big fan of the show. Additionally,
SpongeBob
exists in the same universe as the following shows.
So it seems Jimmy Neutron, Planet Sheen and Spongebob are in the Looniverse. And since we know Timmy Turner is in another universe other than Jimmy's, then Danny Phantom and Ned are part of the Fairly Odd Universe. There have also been comic books and video games as part of the SpongeBob canon.
SpongeBob: A portion of Bikini Bottom is seen as a cameo in a Jimmy Neutron episode
Jimmy Neutron: Jimmy Neutron has had three crossovers with The Fairly Odd Parents
Planet Sheen: Planet Sheen and Jimmy Neutron both feature Sheen
Fairly OddParents: The Fairly Odd Parents and Jimmy Neutron have had three crossovers
Danny Phantom: Comic superhero Crash Nebula exists in both Danny Phantom and Fairly Odd Parents
Neds Declassified School Survival Guide: Comic superhero Crimson Chin exists in both this show and Fairly Odd Parents
Back at the Barnyard: Otis and Pig appear in one of Sheen's daydreams in Planet Sheen. They exist, at the very least, in Sheen's imagination
December 2000--SPONGEBOB SQUAREPANTS--"Christmas Who?"--Santa appears.
Christmas 2002--NICKMAS--Not sure if this is canon.
March 2003--SATURDAY NIGHT LIVE--"
Queen Latifah/Ms. Dynamite"--
The X-Presidents recruit Spongebob for a propaganda cartoon, when he objects to the material they lock him up.
2004--SPONGEBOB SQUAREPANTS MOVIE--Hanging on the wall of an ice cream parlor are pictures of Popeye and KRAZY KAT. I was on the fence on which reality to place Spongebob in, but this may have won me over for being in the Looniverse.
Thomas Paul Jennings
adds:
Spongebob & co. were supposed to pass the cast of Rocko's Modern Life in the SpongeBob movie at some point.
Around 2004--WE ARE FAMILY--If anyone wants to make a list of all the crossovers, I'll give you credit when I update this blog post. Here's an announcement about this video:
NEW YORK - Look out kids. SpongeBob SquarePants, Barney and Clifford the Big Red Dog are joining forces to rerecord the disco tune "We Are Family" to promote diversity and tolerance in classrooms.
A video starring the three children's characters plus nearly 100 others, including Dora the Explorer and Arthur, will be distributed to 61,000 public and private elementary schools nationwide, along with lesson plans for teachers. It will air simultaneously on Nickelodeon, the Public Broadcasting Service and the Disney Channel in March. "This is an unprecedented event. For the first time characters from all of the important kids shows came together to appear in the same video," said video producer Christopher Cerf. "The producers and performers from each show embraced the spirit and message of this project." The We Are Family Foundation was founded by singer-songwriter Nile Rodgers, who wrote the song recorded in 1979 by Sister Sledge. The nonprofit organization creates and supports programs about diversity and multiculturalism. The video was financed by a grant from the Toni Mendez Shapiro estate. "Cooperation and unity are the most important values we can teach children. We believe that this is the essential first step to loving thy neighbor," Rodgers said.
December 2004--THE SIMPSONS--"She Used to Be My Girl"--
Spongebob called on by Lisa in "extra scene" over credits
2005--NICKTOONS UNITE!--
Nicktoons Unite! is a Nickelodeon crossover featuring the shows SpongeBob SquarePants, The Fairly OddParents, The Adventures of Jimmy Neutron: Boy Genius, and Danny Phantom. 3 sequels were made called "Battle for Volcano Island", "Attack of the Toybots", and "Globs of Doom". Before that, various multiple Nicktoons characters had already met with each other, having to compete in party bashes, fighting tournaments, sports and racing competitions in a few other Nickelodeon crossover video games released to multiple games console systems and other banners, among them were Nicktoons Racing, Nickelodeon Party Blast, Nicktoons Basketball, Nicktoons: Freeze Frame Frenzy, Nicktoons Winners Cup Racing, Nicktoons Nitro.
October 2005--THE FAIRLY ODDPARENTS--"Something's Fishy"--
The king of Atlantis, states that their diets consist of "crabs, starfish, and the occasional undersea squirrel" in reference to Sandy the squirrel who lives under the sea in this fellow Nicktoon.
February 2006--DRAWN TOGETHER--"Captain Girl"--
Bikini Bottom, home of SPONGEBOB SQUAREPANTS, is seen, with the cast house being located on the island often seen in that show. Drawn Together has shown that the cast house is in Toon Town, which is near Hollywood, and the Live Action Forest. So if Bikini Bottom is just near the cast house, then we can presume that Spongebob is indeed in the Looniverse, but near a portal to the TVCU.
July 2006--THE GRIM ADVENTURES OF BILLY AND MANDY--"
Be A-Fred, Be Very A-Fred"--
A character that looks like SpongeBob appears in "Be A-Fred, Be Very A-Fred".
September 2007--NICKTOONS: ATTACK OF THE TOYBOTS--
Patrick Star (console- and DS-exclusive) and SpongeBob are playable.
September 2007--JEFF DUNHAM: SPARK OF INSANITY--
Melvin the Superhero Guy says that Aquaman "has all the same powers as SpongeBob."
April 2009--SPONGEBOB SQUAREPANTS--"SpongeBob SquarePants Vs. the Big One"--Davy Jones appears. Yes, the ghostly see legend Davy Jones appears often, but in this instance, it's an appearance of Davy Jones, formerly of the Monkees. Davy Jones has appeared as a regular character on the Monkees playing a fictional version of himself, so like Seinfeld, all appearances of Davy Jones count as a MONKEES crossover. Davy Jones has appeared as a fictional version of himself in HEAD, THE MONKEES, GOLDBERG P.I., THE DREAMSTERS: WELCOME TO THE DREAMERY, SPONGEBOB SQUAREPANTS, HEY ARNOLD!,
The 1st 13th Annual Fancy Anvil Award Show Program Special... Live!... in Stereo, SABRINA THE TEENAGE WITCH, THE SINGLE GUY, THE BRADY BUNCH MOVIE, HERMAN'S HEAD, THE NEW SCOOBY-DOO MOVIES, THE BRADY BUNCH, MAKE ROOM FOR GRANDDADDY, Z CARS and THE JOEY BISHOP SHOW.
July 2009--THE NOSTALGIA CRITIC--"
Top 11 Cereal Mascots"--
Lists Spongebob as a victim to Coco Puffs.
2009--THE HAUNTED WORLD OF EL SUPERBEASTO--
Plankton is seen
November 2009--CHILDREN IN NEED--Several characters from the LOONIVERSE get together for a "We are the World" type event. Scooby and Shaggy from the TVCU appear via television. Scooby and Shaggy of course often visit the Looniverse. The crossovers I recognize (all from the Looniverse) is THOMAS THE TANK ENGINE, BOB THE BUILDER, THE TELETUBBIES, BEN 10, PADDINGTON BEAR, LITTLE ROBOTS, ANGELINA BALLERINA, SPONGEBOB SQUAREPANTS,
PUDSEY THE BEAR,
BAGPUSS, ANDY PANDY, THE FLOWERPOT MEN, MUFFIN THE MULE, POSTMAN PAT, THE WOMBLES, ROLAND THE RAT, FIREMAN SAM, PINGU, RUBBADUBBERS, ROARY THE RACING CAR, FIFI AND THE FLOWERTOTS, THE WOODENTOPS, ENGIE BENJY, IN THE NIGHT GARDEN, PEPPA PIG, THUNDERBIRDS, ROOBARB, FLUGGY GARDENS, RAINBOW, THE SOOTY SHOW, CAMBERWICK GREEN, TRUMPTON and THE KOALA BROTHERS
. (Thank goodness for being a dad.) Thanks also to Toby for pointing this out to me on his site and listing them for me. If anyone can help me identify the rest I'd appreciate it. Video below.
May 2010--THE TONIGHT SHOW WITH JAY LENO--"
Episode #18.60"--
Jay says that due to the BP oil spill, SpongeBob found tarballs in his squarepants
July 2010--PHINEAS AND FERB--"Phineas and Ferb: Summer Belongs to You!"--
On the deserted island, Phineas digs through the sand and finds a sponge and a starfish that are similar in appearance to SpongeBob and Patrick.
August 2010--THE NOSTALGIA CRITIC--"
Animaniacs Tribute"--
Sherri Stoner, as Slappy, is asked about SpongeBob and says he's a good kid.
2011--BIG TIME BEACH PARTY--This is a BIG TIME RUSH TV Movie.
The real-world parts of Spongebob exist in the same universe as Big Time Rush. This is justified by Patchy the Pirate's appearance in "Big Time Beach Party."
2011--SOUTH PARK: CARTMAN'S STORY--
Spongebob is shown in the background 10 times.
June 2011--THE TONIGHT SHOW WITH JAY LENO--"
Episode #19.166"--
Jay says the economy is so bad that SpongeBob has taken a second job
June 2011--THE TONIGHT SHOW WITH JAY LENO--"
David Spade/Tom Papa/Plain White T's/'The Voice' Finalists"--
Jay says that SpongeBob has had to take an unusual job due to the economy
Prior to
Aug. 18, 2011--
Jimmy Neutron's Nicktoon Blast--
The cameos whizzed by so fast.
Interesting that previously Jimmy and Timmy were intentionally said to be in separate realities, but now are in the same reality.
It seems that Nicktoons studios has a Looniverse portal like Warner Bros does, but it has portals to many different locales rather than just Hollywood.
So Jimmy, Timmy, Spongebob, Hey Arnold, Rugrats (which brings in Wild Thornberrys). Did I miss any?
September 2011--NICKTOONS MLB--
SpongeBob, Patrick, Sandy, Larry the Lobster, & The Flying Dutchman are playable characters.
September 2011--THE TONIGHT SHOW WITH JAY LENO--"
Episode #20.6"--
a fake headline says that a satellite landed on SpongeBob
July 2012--THE NOSTALGIA CRITIC--"Digimon the Movie"--Characters from SpongeBob appear.
The Spongebob gang watch Last Airbender and critiques it MST3K style.
December 2012--IT'S A SPONGEBOB CHRISTMAS--Santa appears.
2014--SPONGEBOB SQUAREPANTS 2--
The plot is unknown at this time.
a desolate future--
Tengen Toppa Gurren Lagann--From
Salvatore Cucinotta
:
Here's a blink and you'll miss it one. This is from the film version of the anime "Tengen Toppa Gurren Lagann" (Part 1). In this series, Beast men keep humans down and living in underground caves in a desolate future. One off these beast men is, apparently, Squidward from "Spongebob". Puts a whole new spin on those talking animal shows, doesn't it? that they live their lives oppressing humans at the behest of the spiral king.
ALTERNATE REALITIES:
MAD UNIVERSE: The animated Mad series has also parodied SpongeBob. Mad is officially shown to be part of the TVCM in BATMAN: THE BRAVE AND THE BOLD.
MEMEVERSE: There's no true demonstrated proof that the Memeverse exists as part of the TVCM, other than in keeping with my theory that everything happens somewhere.
ROBOT CHICKEN UNIVERSE--Of course has parodies SpongeBob. The Robot Chicken Universe is shown to be part of the TVCM in FAMILY GUY.