The Television Crossover Universe website is celebrating it's fifth anniversary.
So now comes the secret behind how this site came to be. Five years ago, I was involved in another shared reality discussion group, and we were discussing how certain extremely odd series could be linked to the more pulp and literature oriented shared reality by crossover connections. I proposed that Hannah Montana could exist in that reality using crossover links. I'm now banned from that group.
And so, I created this website. And it's taken me five years to finally cover Hannah Montana. You see, it was never really that I was a fan of Hannah Montana. It was just that I am a fan of fictional crossovers in general, and have a particular fondness for TV crossovers. I'd spent my whole life obsessing over them. And since I couldn't find anyplace else that would welcome my thoughts on TV crossovers, I created this website. I honestly didn't think anyone would read my blog. But they did. And now there are published books and a podcast. And I have to point out that this might never have happened if I hadn't proposed that Hannah Montana was part of a larger shared reality.
So I guess I owe Miley and Disney.
So here goes...
Thousands of Years Ago--Atlantis was destroyed due to those who dabbled in magic without proper discipline. This prompts the Elders to create Magic School, which exists in an other dimensional realm. According the the Charmed comic, there are only three of these schools in existence. However, we know there are others. And considering how the Elders brought Prue back to life in Salem, MA, which is where Melinda Warren was burned, this HAS to be the Salem school seen in the HARRY POTTER books and also referenced in other shows like WIZARDS OF WAVERLY PLACE and SCOOBY-DOO.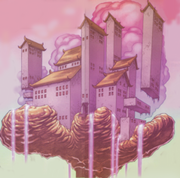 1982--Charmed establishes that real zombies were used for Thriller, manipulated by a demon. Wizards of Waverly Place also alludes to this as being fact!!!
And the Michael Jackson THRILLER zombie appeared in the movie RETURN OF THE LIVING DEAD PART II. As seen above, our own Crazy Ivan has also had a run in with said zombies.
January 1989--MAMA'S FAMILY--"Full House"--This episode reference FULL HOUSE. There are a log of Full House zonks to deal with in the TVCU. One might consider that Danny was a talk show host in San Francisco, Joey was a stand-up comedian, and Jessie was a professional musician. So between the three of them, they could have had enough moderate success that perhaps their unusual family dynamic became well known. Perhaps Wake UP San Francisco had a recurring segment on the show called "Full House" about the family's adventures. It wasn't unusual for the family to show up on the show. So between the three semi-famous careers of the men of the house, this could perhaps cover the zonks. Other shows that have had Full House zonks include: CLARISSA EXPLAINS IT ALL, HOME IMPROVEMENT, MARRIED WITH CHILDREN, MYSTERY SCIENCE THEATER 3000, THE LARRY SANDERS SHOW, BEAVIS AND BUTT-HEAD, BOY MEETS WORLD, THE CRITIC, THE NANNY, SOUTH PARK, LEISURE SUIT LARRY, ENTOURAGE, CHARMED, GILMORE GIRLS, HANNAH MONTANA, THE ANGRY VIDEO GAME NERD, ICARLY, FAMILY GUY, GETAWAY, GREEK, THE NOSTALGIA CRITIC, THE CINEMA SNOB, LAST MAN STANDING, AMERICAN DAD!, I HATE MY TEENAGE DAUGHTER, HOUSE M.D., GLEE, KENDRA ON TOP, NEW GIRL, STUDIO C, THE SIMPSONS, JAMES & MIKE PLAY, WORKAHOLICS, ACTION, and ROSEANNE.
January 2003 to November 2007--THAT'S SO RAVEN--Raven attends Bayside High School in San Francisco. Greg (of Dharma and Greg) also attended this high school, as seen in a class reunion episode of DHARMA AND GREG. Bayside High was also the setting of SAVED BY THE BELL, and the same sets are used on That's So Raven. An oddity regarding Bayside High on Saved by the Bell is that the school moves. Perhaps some sort of witchcraft is involved to explain this. When Saved by the Bell went by its original name of Good Morning Miss Bliss (when it was on the Disney Channel, thus linking another Disney Channel show), the setting was John F. Kennedy Middle School in Indianapolis. When the show was retooled by NBC as Saved by the Bell, it now took place at Bayside High in Palisades, California. Did Zack, Screech, and Lisa all move? Also, Principle Belding would have also had to have moved with them. And Jessie on Saved by the Bell was established to have been friends with Zack since they were little kids. It's a strange mystery of the TVCU how these kids and their principle ended up all moving together (with their families as well, of course.) And then another mystery how the school itself later moved across state. Though Good Morning Miss Bliss was on the Disney Channel, and links to That's So Raven, I will later cover the Saved by the Bell franchise in a future blog post. Click here for Thom Holbrook's view on the migration of Bayside High.
August 2003--THE CHEETAH GIRLS--
Four teens aim to take the world by storm with their music.
December 2003--THE NICK AT NITE HOLIDAY SPECIAL--
French Stewart says "That's so Raven" when he hears her outside singing.
2004--THE CHEETAH GIRLS--
After the success of The Cheetah Girls movie on Disney Channel, a pilot episode was filmed for a TV series on The Cheetah Girls for ABC for the 2004-2005 season.
2005 to 2008--THE SUITE LIFE OF ZACK AND CODY--
Comedy about identical twins living at the Tipton Hotel with their single mother who is a lounge singer at the hotel.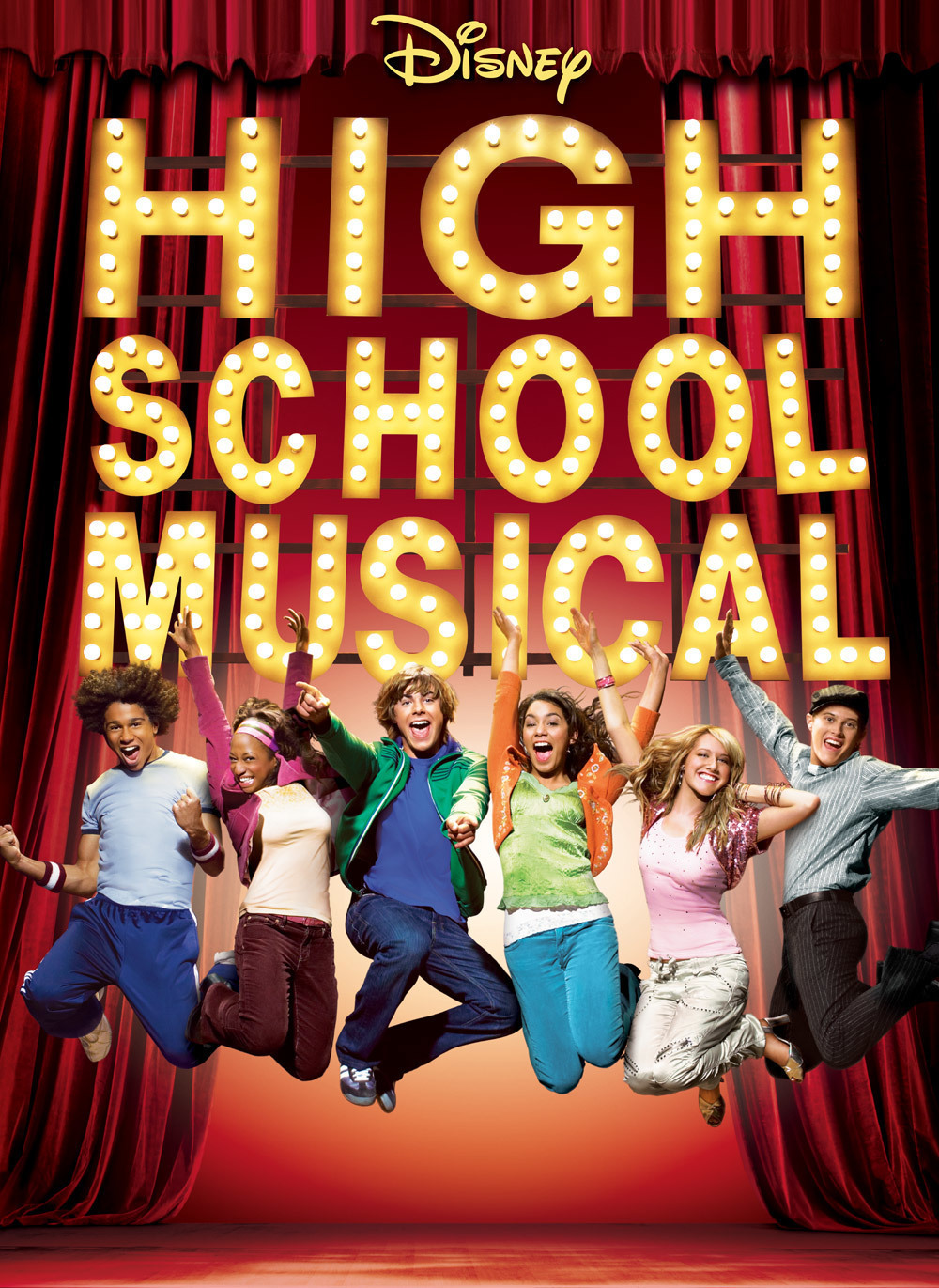 2006--HIGH SCHOOL MUSICAL--
Is Mr. Sweet also perhaps the glee club teacher in Community? Or is there more than one musical demon, accounting for groups that are affected over a longer term period, like in Glee and
High School Musical
? Toby O'Brien says "
The splainin for the song and dance routines is markedly different from what happened in "Once More With Feeling", the musical episode of 'Buffy The Vampire Slayer'. Those characters were forced into a little song, a little dance (but without the seltzer down their pants) by the demon known as Sweet.
His raison d'etre can be connected to other musical episodes like the one from 'Seventh Heaven', as well as to entire series like 'Cop Rock', 'Hull High', and 'That's Life'. His most recent addition to his Crossover Hall of Fame credentials (inducted in October of 2005) would be the TV movie "High School Musical"."
2006 to 2011--HANNAH MONTANA--
On the Disney Channel Series "
Hannah Montana
" Miley's foil/rival/crush, Jake Ryan (played by Cody Linley), is the star of a fictional television series
Zombie Slayer at Zombie High
, with obvious
Buffy
parallels. Obviously this series is a rip-off of the series produced by Joss and Andrew.
June 2006--THE SUITE LIFE OF ZACK AND CODY--"The Suite Smell of Excess"--
In the alternate universe of the hotel, Maddie behaves exactly like Sharpay Evans
June 2006--THE SUITE LIFE OF ZACK AND CODY--"The Suite Smell of Excess"--Arwin's "Parallel Universalizer" is disguised as a British Telephone Booth, just like the Tardis.
June 2006--WENDY WU: HOMECOMING WARRIOR--
A Californian teenager learns that she is the reincarnation of a legendary female warrior destined to protect the world.
July 2006--THE SUITE LIFE OF ZACK AND CODY--"That's So Suite Life of Hannah Montana"--
Part 1: Raven steps up to organize an important photo shoot showcasing Donna Cabonna's new fashion line for boys at the Tipton Hotel in Boston. After a mishap, she must substitute the fashion models with Zack and Cody. When the reclusive photographer Pistache gets stuck halfway around the world, Raven's got to think quickly to save the photo shoot. Meanwhile Cory and Eddie try to get Chelsea to break the record for the world's longest paddle ball session so they can claim the prize money. They think they have the record in the bag until Stanley proves to be a formidable paddle ball opponent. Part 2: Raven Baxter checks into the Tipton Hotel and has a vision that Zack is in danger of being attacked. Zack, now paranoid, avoids anything that remotely resembles Raven's "premonition" - even the surprise birthday party that he and Cody are throwing for Carey,. Meanwhile, Maddie is trying to help Raven by getting London to wear one of Raven's original designs, but London swears she'll never wear anything that's not from a real designer. London soon changes her tune when pop star Hannah Montana checks into the Tipton and asks Raven if she can wear one of her designs. Part 3: When Hannah Montana stays at the Tipton Hotel in Boston, she befriends candy counter Maddie who talks about the career Miley's father Robby had back in the day. Now, Miley believes that her dad gave up his dream to sing so that Miley could pursue her own career. To give him back the stage life, she recruits the help of his former manager to get Robby back on the road. Part 1 also is part of the THAT'S SO RAVEN series in episode "Checkin' Out". Part 2 is THE SUITE LIFE OF ZACK AND CODY "That's So Suite Life of Hannah Montana", and Part 3 is HANNAH MONTANA "On the Road Again".
August 2006--THE CHEETAH GIRLS 2--
The girl group return for more adventures, this time traveling to Spain to take part in a music festival.
November 2006--THAT'S SO RAVEN: PSYCHIC ON THE SCENE--Video game based on the show.
January 2007 to September 2008--CORY IN THE HOUSE--Spin-off of THAT'S SO RAVEN. Corey's dad gets a job as a White House chef. Because this series features fictional President Martinez, this entire series, and any other appearance of the Martinez family are relegated to the TVCU2. However, appearances of Cory and his family on That's So Raven can still exist in the main TVCU timeline.
Who the president is give a lot of inconsistency, as in some shows (especially those that take place after 2008), it is Obama, while in others, it is someone unknown:
In one K.C. Undercover episode, K.C. had to protect the president's daughter, who doesn't look like anyone related to Obama.
On I Didn't Do It, Betty asks if a man whom she believes is a Secret Service agent is protecting someone who's name rhymes with "Olama".
In the earlier DCOS (ones before 2008), the President is the one from Cory in the House.
2007 to 2012--WIZARDS OF WAVERLY PLACE--
Centers on a family in New York City that owns a restaurant where, behind the scenes, the kids can do real magic.
2007--YAY ME! STARRING LONDON TIPTON--
London Tipton gives fashion tips, receives guest stars and embarrasses her friends.
2007--
Hannah Montana: Live in London
--Miley Cyrus appears on stage as both herself and as Hannah Montana, thus allowing the TVCU to accept both the existence of real life Miley Cyrus and fictional Miley Stewart.
2007--
Hannah Montana: Spotlight World Tour
--A video game based on the Disney series.
2007--
Hannah Montana & Miley Cyrus: Best of Both Worlds Concert
--
A 3-D concert film of the 2007 Hannah Montana/Miley Cyrus tour.
April 2007--CORY IN THE HOUSE--"Mall of Confusion"--Cory's sister Raven appears.
May 2007--HANNAH MONTANA--"My Best Friend's Boyfriend"--Larry David appears with his two children. Since Curb Your Enthusiasm is in the TVCU, Larry's kids need some 'splaining, which Toby has O'Bviously already taken care of here.
June 2007--HANNAH MONTANA--"Take This Job and Love It"--President and Sophie Martinez appear, characters from CORY IN THE HOUSE. Cory in the House is firmly part of the TVCU. It is a spin-off of That's So Raven. But it's a problem. It not only features a fictional president and his family as regular characters, but also the first Latino president. Since most of the TVCU does not recognize President Martinez, that poses a major contradiction. Often, when fictional presidents appear, I recommend that these are merely replacements and that the actual president in office at the time was really involved in those events. I may have to suggest that Corey in the House, and this episode, be relegated to the TVCU2.
2007--ARWIN!--
Centers on the character of Arwin the handyman, who moves in with his sister to take care of her kids.
July 2007--CORY IN THE HOUSE--"That's So in the House"--
While visiting the White House to design new tour guide uniforms, Raven has a kooky accidental encounter with President Martinez. Posing as his sister, Cory tries to save the situation.
July 2007--WISH GONE AMISS WEEKEND--"Wish Gone Amiss Weekend" is a special event weekend that aired on
Disney Channel
on July 13, 2007. The event was made up of one episode from each
Cory in the House
,
Hannah Montana
, andThe Suite Life of Zack & Cody, in a similar fashion to that of
That's So Suite Life of Hannah Montana
. However, unlike its predecessor, there was no crossover between the three shows. However, according to the television advertisements for the event, the characters in each show wished upon the same shooting star (apparently all simultaneously, simply in different parts of the country). This serves as a loose plot line connecting all three shows, as the characters must deal with the consequences of their granted wishes. Wish Gone Amiss Weekend first aired on the
Disney Channel
on July 13, 2007, and was advertised as a Friday the 13th special. On Friday, the
Cory in the House
episode, Gone Wishin, aired at 08:00 PM EDT, followed by the
Hannah Montana
episode, When You Wish You Were the Star at 08:30 PM EDT, and The Suite Life of Zack & Cody episode, Super Twins, aired last at 09:00 PM EDT.
Summer 2007--HIGH SCHOOL MUSICAL 2--
During the summer vacations a talent show is organized in a local country club and Troy, Gabriella, Sharpay, Ryan, Chad and Taylor take part in it.
2007--THE TONIGHT SHOW--
Clip of
Raven-Symoné
edited to depict her having a premonition of co-hosting "The View"
2008 to 2011--THE SUITE LIFE ON DECK--
Spin-off of the hit Disney Channel series "The Suite Life of Zack & Cody," in which twin brothers Zack and Cody Martin and hotel heiress London Tipton enroll in a semester-at-sea program aboard a ship called the SS Tipton.
c. March 9, 2008--WIZARDS OF WAVERLY PLACE--"Little Sister"--
The genie bears a striking resemblance to Jeannie.
2008--CAMP ROCK--
At a music camp for gifted teens, a popular teen idol overhears a girl singing and sets out to find who the talented voice belongs to. What he doesn't know is that the girl is actually a camp kitchen worker with a fear of being heard.
August 3 to October 5, 2008--STUDIO DC: ALMOST LIVE--Two Disney specials reviving the Muppet Show format and cast and loaded with Disney stars such as
Selena Gomez, Demi Lovato, Jake T. Austin, Jason Earles, Jason Dolley, Moises Arias, David Henrie and The Cheetah Girls. This show features famous Disney stars, but also some fictional characters as well. Crossovers include THE CHEETAH GIRLS, WENDY WU: HOMECOMING WARRIOR, THE JONAS BROTHERS, THE SUITE LIFE OF ZACH AND CODY, HIGH SCHOOL MUSICAL, and HANNAH MONTANA. (Sorry, guys, I know this is even more painful than muppets.)
August 2008--THE CHEETAH GIRLS: ONE WORLD--
The girl group travel to India to star in a Bollywood movie - but end up competing for the same part.
October 2008--HIGH SCHOOL MUSICAL 3: SENIOR YEAR--
As seniors in high school, Troy and Gabriella struggle with the idea of being separated from one another as college approaches. Along with the rest of the Wildcats, they stage a spring musical to address their experiences, hopes and fears about their future.
December 2008--HANNAH MONTANA--"Killing Me Softly With His Height"--Santa appears.
January 2009--HANNAH MONTANA--"Would I Lie To You, Lilly?"--When the kids visit Washington, they visit the White House. The same set is used for the White House corridor and press room as seen on CORY IN THE HOUSE.
2009--MACKENZIE FALLS--
Chad Dylan Cooper is the teenaged star of the prime-time soap opera
MacKenzie Falls
. He is played by
Sterling Knight
and is believed by some to be based on former
Dawson's Creek
star
James Van Der Beek
.
Chad and the rest of the cast of MacKenzie Falls share a studio warehouse with the cast of
So Random!
, a sketch comedy series similar to the long-running Nickelodeon series
All That
. However, while girls everywhere swoon over Cooper, both male and female castmembers of So Random have been engaging in a long running feud with him and the rest of his co-stars. Cooper is as elitist as the school uniforms his character wears on the set, and is frequently demeaning to the So Random cast, referring to them as "Chuckle City" and other belittling names.
The arrival of
Sonny Munroe
to the cast of So Random hasn't exactly made him change his attitude, but he has developed a crush on the new castmember.
2009 to 2010--JONAS--
The show follows the Jonas Brothers through fun and unusual situations as they try to live ordinary lives. The series will also feature original Jonas Brothers songs created especially for the show. "JONAS" is set in the Jonas family's New Jersey home (a converted fire station on Jonas Street, the inspiration for their band's name) and at their private school, Horace Mantis Academy. Little brother Frankie also stars, and the family wouldn't be complete without The Big Man, the JONAS bodyguard.
2009 to 2011--SONNY WITH A CHANCE--
Sonny, a talented Midwestern girl, has won a nationwide talent search to move to Los Angeles and star in a popular television series. Sonny's home and work life is documented along with her adjustment to life in the spotlight.
2009 to Present--I'M IN THE BAND--
A retired band are trying to get a come back to fame.
February 2009--HANNAH MONTANA--"You Gotta Lose This Job"--
The dummy seen in this episode has also appeared in the Suite Life episode "Footloser" and a That's So Raven episode, "Out of Control".
February 2009--WIZARDS OF WAVERLY PLACE--"Helping Hand"--
The Wizard Patent Manager's name is Mr. Spellman
March 2009--SONNY WITH A CHANCE--"Three's Not Company"--Hannah Montana is mentioned as a real person. Of course, Hannah Montana was the alter ego of Miley Stewart, but to the world at large, Hannah Montana was considered to be the true identity of the super-star performer. Chad is the one who makes the reference. Later, in "Sonny and the Studio Brat", Sonny references that Chad still thinks Miley and Hannah are separate people. This could end up being a "zonk", since the Hannah Montana series is still ongoing at this time, and so the secret is still in place. However, since there have been concerts in which Miley Cyrus has performed with Hannah Montana, and since Miley's last name isn't said in this episode, this could 'splain away the zonk. (Terminologies lifted from Toby O'Brien.)
2009--HANNAH MONTANA: THE MOVIE--
As Hannah Montana's popularity begins to take over her life, Miley Stewart, on the urging from her father takes a trip to her hometown of Crowley Corners, Tennessee to get some perspective on what matters in life the most.
August 2009--WIZARDS OF WAVERLY PLACE: THE MOVIE--
Teenage wizard Alex casts a spell that accidentally changes history so her parents never fell in love. She and her brothers face a race against time to put things right before they are erased from existence.
September 2009--
Wizards on Deck With Hannah Montana--
A teen cruise to Hawaii on the S.S. Tipton sounds like every teenager's dream. So it's no surprise that Justin (Wizards of Waverly Place) entered an essay contest and won a trip for himself and his siblings, and that Miley Stewart and her best friend Lily (Hannah Montana) booked the cruise as transportation to Hawaii for Hannah Montana's concert appearance.
Interestingly enough for shows with little enough continuity, the characters from
The Suite Life
and
Hannah Montana
recalled the previous crossover.
The crossover spanned across episodes of
Wizards of Waverly Place
,
The Suite Life on Deck
, and
Hannah Montana
.
Zack and Cody Martin, London Tipton, Bailey Pickett, and Marion Moseby from
The Suite Life on Deck
appeared on
Wizards of Waverly Place
Cast-Away (to Another Show)
and
Hannah Montana
Super(stitious) Girl
. Hannah Montana and Lola Luftnagle from
Hannah Montana
appeared on
The Suite Life on Deck
Double-Crossed
.
September 2009--CURB YOUR ENTHUSIASM--"Funkhouser's Crazy Sister"--Larry mentions Hannah Montana.
October 2009--WIZARDS OF WAVERLY PLACE--"Halloween"--A character dresses as Bo Peep.
2010 to Present--PAIR OF KINGS--
Teenage twins from Chicago discover they are heirs to the throne of an island nation.
2010 to 2014--GOOD LUCK CHARLIE--
The Duncan family are adjusting to the surprise birth of their fourth child, Charlie. When parents Amy and Bob return to work they put their latest addition in the care of her three older siblings.
2010 to 2013--SHAKE IT UP!--
Two Chicago teens attempt to realize their dream of becoming professional dancers by landing spots on a popular local show.
2010--SUMMER CAMP--Allegedly a 30 minute TV movie spin-off of HIGH SCHOOL MUSICAL, according to IMDB.
2010--SCOOBY-DOO! ABRACADABRA-DOO!--Velma's little sister is studying at a magic school that is dealing with a griffin. The school is called the Whirlen Merlin Magic Academy. The story states that Velma's sister (who must be much younger) is studying to be a stage magician, but have you ever heard of a posh academy for stage magicians? I believe this is a real magic school. In fact, I believe this is the magic school often seen on CHARMED and that is located in Salem. They annually face Hogwarts and other schools in Quidditch matches. Likely the WIZARDS OF WAVERLY PLACE should be going here, but their parents choose to home school them on magic so they can attend public school.
2010--WIZARDS OF WAVERLY PLACE--"Moving On"--
Jerry mentions an old friend of his named Benjamin Kenobi. This is a reference to the character Obi-Wan Kenobi from Star Wars, who at one point went by the cover name "Ben Kenobi".
August 2010--SONNY WITH A CHANCE--"That's So Sonny"--
Besides the title reference, Amber's (Raven Symone) tendency to go uncover while portraying different characters is based off of Raven's character on That's So Raven, who would often use various disguises to deal with the comical situations caused by her psychic visions.
2010--CAMP ROCK 2: THE FINAL JAM--
Mitchie can't wait to return to camp rock so that she and love-interest Shane can spend the summer making music and having fun with their friends and band mates. But when a rival camp, Camp Star, run by famous music producer Axel Turner opens across the lake, it causes many Camp Rock campers and counselors to ditch Camp Rock and join Camp Star. Mitchie finds herself too busy running the camp and preparing for the "Camp Wars" to have much fun, but Shane and friends help her open up and look on the bright side of summer. The Camp Rock gang spends the summer preparing for the dramatic battle of the bands; while still maintaining to have fun.
September 2010--PAIR OF KINGS--"No Kings Allowed"--
Brady tells Boomer that in the (blonde) wig that he is wearing "you could be a world famous teenage singing sensation with that wig on and I wouldn't recognize you...even if I was your best friend." Mitchell Musso, the actor who plays Brady, played Oliver on Hannah Montana and Oliver is unable to recognize Miley Stewart, his best friend, as world famous teenage singing sensation Hannah Montana.
September 2010--SUITE LIFE ON DECK--"Trouble in Tokyo"--
Hashimoto, who appeared in the
Suite Life On Deck
episode
Trouble in Tokyo
becomes a recurring character in
A.N.T. Farm
2010--HANNAH MANTEGNA--
The series "Hannah Mantegna" is a supposed to be a spin-off series
October 2010--I'M IN THE BAND--"Weasels on Deck"--
The cast of
The Suite Life on Deck
guest starred on an episode of
I'm in the Band
.
Iron Weasel's plans to set out to board the SS Tipton to perform become tricky.
October 2010--DISNEY CHANNEL ALL-STAR PARTY--A Karaoke dance party competition with Phineas and Ferb; Joe, Kevin and Nick Lucas (JONAS L.A.); Sonny Munroe (SONNY WITH A CHANCE); Alex Russo (WIZARDS OF WAVERLY PLACE); HANNAH MONTANA; Zack and Cody Martin (SUITE LIFE ON DECK); Mitchie Torres (CAMP ROCK film series); and Mii (that generic Wii character, bringing him actually into the TVCU!!!)
December 2010--WIZARDS OF WAVERLY PLACE--"Dancing with Angels"--
When Tina becomes a full guardian angel, Rosie rings a bell and Tina gets her wings.
2011 to Present--SO RANDOM!--
The spin-off to Sonny with a Chance, So Random! is a musical sketch comedy continuing some of the sketches on the original show while introducing new sketches with a new repertory cast.
2011 to 2014--A.N.T. FARM--
A musical prodigy, gets into a gifted program called Advanced Natural Talents at the local high school.
2011 to 2015--JESSIE--
The butler from
Jessie
has Famous Butlers of History trading cards. One that is mentioned is his rare 1928 Jeeves. I'm certain this is a reference to P.G. Wodehouse's famous character. Since these are famous butlers from history, not fiction, this should imply Jeeves is a real person in the world of
Jessie
.
2011 to Present--AUSTIN & ALLY--
Following the lives of Austin, an aspiring confident musician, Ally, a quiet talented songwriter and their two friends.
March 2011--THE SUITE LIFE MOVIE--
A doctor approaches Zack and Cody and tells them that they would be ideal for the Gemini Project, a massive project studying the effects of twins.
April 2011--SHARPAY'S FABULOUS ADVENTURE--
Sharpay Evans travels to New York where she is pursuing a Broadway career but it's her dog who lands an acting gig first.
June 2011--GOOD LUCK CHARLIE--"Charlie Shakes It Up"--
Good Luck Charlie
had a crossover with
Shake It Up
titled "Charlie Shakes It Up". The crossover aired on June 5, 2011.
[2]
[3]
In the episode, Teddy, Amy, and Charlie visit Chicago and are accidentally taken to the set of Shake It Up Chicago, where they are mistaken as the Duncan sisters, a pair of dancers.
October 2011--SO RANDOM!--"Miss Piggy"--Miss Piggy is the guest host on the fictional sketch comedy show called So Random!, which is part of the actual show also called So Random!
December 2012--GOOD LUCK CHARLIE, IT'S CHRISTMAS!--
Idiocy strikes when a woman and her daughter get separated from their family during the holidays.
January 2012--A.N.T. FARM--"PerformANTs"--
In the store, there is poster that says Tears of Blood, which is a fictional band that has been referenced in Wizards of Waverly Place.
February 2012--JESSIE--"The Princess and the Pea Brain"--
Bertram--the Ross family butler--will be speaking at his club's roast of Alfred Pennyworth.
It's easy to imagine Bertram and Alfred are members of the American branch of the Junior Ganymede Club, the primer club for gentlemens' gentlemen.
June 2012--JESSIE--"Tempest in a Teacup"--From our James Bojaciuk:
Everyone gets trapped in a giant cup of Tipton Tea. The Tiptons are from
Suite Life
of Zack and Cody and
Suite Life
on Deck.
2012--MADISON HIGH--
At "Madison High", the students embark on a journey of self discovery while trying to build a revolutionary theatre program under the tutelage of Ms. Darbus.
September 2012--QI--"Jargon"--
Jimmy Carr suggests Hannah Montana was the first person to say "OMG".
November 2012--JESSIE--"Make New Friends, But Hide the Old"--James says:
During spring break, I've done virtually nothing but watch
Jessie
marathons on the Disney Channel. This is a problem.
In the episode "Make New Friends But Hide the Old," idiot 13 year old Emma believes the Bronx, Narnia, and Staten Island.
To make Rob happy, they play a Phineas and Ferb music video every break, which shows
Jessie
dancing alongside Perry.
There's no way to work this as a crossover, most likely, but the Taylor Lautner stand-in sneaks around New York as the apparently homeless Rufus T. Firefly.
December 31, 2012 to January 1, 2013--AUSTIN & JESSIE & ALLY ALL STAR NEW YEAR--
Austin & Ally
and
Jessie
had a combined special episode of both shows titled
Austin & Jessie & Ally All Star New Year!
that aired December 7, 2012. In the episode, Austin, Ally, Trish and Dez travel to Times Square where Austin is booked to perform on New Year's Eve. When they can't get through New York City's crowded streets, Jessie comes up with a plan to get them to the stage and to ultimately have Austin record one of her songs.
2013--BITS AND PIECES--
This show aired with a different title. That title is Liv and Maddie.
2013 to Present--LIV AND MADDIE--
Liv, a popular television star whose show has just finished its run, and Maddie, an outstanding student and school basketball star whose popularity is on the rise until Liv makes a return to their high school.
Micah Harris
recently shared this with me via e-mail, which I'm sharing with permission. "By the way, I noticed you had looked into Hannah Montana crossovers. Since you're not adverse to Disney channel fare, let me point out that on "Liv and Maddie," an identical twin show with Dove Cameron playing both girls, the late Patty Duke appeared as their grandmother, Janice. Janice has her own twin, Hilary. The potential crossover is that Duke as a young woman on her "Patty Duke Sh
ow" played identical cousins, Patty and Cathy. One of the cousins was British, I remember. This was an admirable meta-move for a Disney channel show, and "Liv and Maddie" have made other such stabs at postmodernism. Nothing particularly sophisticated, but, remembering the age of their audience, that's understandable. In this episode, Maddie's dialogue even cites some lyrics from the Patty Duke Show's theme.
Crossover wise, of course, the question would be, are Liv and Maddie related to the identical cousins from the '60s Patty Duke show, which raises the question of what is the relationship of Patty and Cathy from the Patty Duke Show to Liv and Maddie's grandmother Janice and her twin sister Hilary?
"Rooney," Liv and Maddie's last name can be safely presumed to be their mother's married name. I have not found a given maiden name for her. Patty and Cathy's last name was Lane, after their father. The reason the Lane cousins had such a resemblance was because their fathers were identical twins.
So, Liv and Maddie's identical grandmother and her sister cannot be Patty and Cathy, who are only cousins. Nevertheless, their grandma Janice has a resemblance to Patty and Cathy as they would appear today. Twins, I believe, run in families. If Patty and Cathy could look like each other and be cousins, could there be cousins to both girls that have their same face? Cousins named Janice and Hilary? But the common denominator with Patty and Cathy as i.d. cousins was that their fathers were identical twins. But here's the thing: Patty and Cathy look like each other, but NEITHER resembles their twin fathers. So it would seem somebody else's genes has a long reach.
Why, you might ask, am I, a middle aged man up in the middle of the night trying to work out some crossovers because of a Disney show for tweener girls? Check out my facebook page and my latest entry: "While I should Have Been Reading Proust (Misadventures in popular culture)"."
March 2013--THE WIZARDS RETURN: ALEX VS. ALEX--
While visiting Tuscany, Italy, a young wizard accidentally creates an evil version of herself.
April 2013--GOOD LUCK CHARLIE--
Hi-ho! The Muppets perform an original song when they appear on Good Luck Charlie! on
Disney Channel
. T
hey also appeared on So Random.
June 2013--A.N.T. FARM--"IndepenANTs"--
The Z-Phone (first seen on Hannah Montana) is referenced.
Tom Choi guest stars as Mr. Hashimoto, the owner of Hashimoto Soda, as seen on The Suite Life on Deck.
June 2013--JESSIE--"Punched Dumped Love"--From

Toby O'Brien

: Trapped as I am with my 8 year old nephew, I just watched an episode of "Jessie". They commented that nobody would like Luke's Superman underwear.... Not even Lois Lane. Plus Adam Sandler was in it as himself.


September 2013--LIV AND MADDIE--"Steal-A-Rooney"--
The Z-Phone was first mentioned and seen in Hannah Montana, and was later expanded upon in A.N.T.
December 2013--GOOD LUCK CHARLIE--"Good Luck Jessie: NYC Christmas"--
In the crossover episode, Teddy and PJ travel to New York City to tour a university, but a blizzard prevents their return home in time for Christmas. After meeting Jessie on the subway, they embark on a Ross family holiday like no other. Back in Denver, Bob takes the Duncan kids to meet Santa, but Gabe is not in the holiday spirit.
2014 to Present--GIRL MEETS WORLD--SPIN-OFF OF BOY MEETS WORLD!!!
A decade after "Boy Meets World," Cory and Topanga Matthews are married and have two children. The younger child, a daughter named Riley, faces life lessons through her family, friends, and school, as her parents did when they were younger. See my TGIF blog post for more on Boy Meets World and its other crossover connections.
2014 to 2015--I DIDN'T DO IT--
Centers on ultra-competitive fraternal twins Lindy and Logan Watson, who, together with their best friends, navigate their freshman year of high school.
February 2014--PSYCH--"Cog Blocked"--
Gus asks the restaurant hostess if she has a reservation under the name of Hannah Montana.
October 31, 2014--ULTIMATE SPIDER-MAN--"Halloween Night at the Museum"--Jessie takes the kids to the museum on Halloween night, where she and the kids end up helping Spider-Man take on a resurrected Morgaine le Fay with Excalibur. Since Jessie is in the TVCU, we should assume for TVCU purposes that this is not the original Spider-Man, Peter Parker, but rather a later hero to carry on the legacy. Check out episode 2 of our podcast (link in the right hand column of this page) where we talk more about this crossover.
December 2014--JESSIE--"Jessie's Aloha Holidays with Parker and Joey"--
This is a crossover episode of
Jessie
with two
Liv and Maddie
characters.
2015 to Present--K.C. UNDERCOVER--
An outspoken and confident technology wiz and skilled black belt discovers that both her parents are spies and expect her to follow in their footsteps.
2015 to Present--BEST FRIENDS WHENEVER--
Follows teenagers Shelby (Taylor) and Cyd (Bender), who when a science experiment goes wrong, become unstuck in time leaping forward and backward in time. Teenage genius Barry then helps girls master their new power.
March 2015--JESSIE--"Karate Kid-tastrophe"--
Marion Moseby from
The Suite Life on Deck
appeared
.
2015 to Present--BUNK'D--
Emma, Ravi, and Zuri Ross head off to a rustic summer camp in Maine, where their parents met as teens. Along with their new friends, love triangle,and the fears of the Kikiwaka. The trio tries their best to settle into their exciting and challenging new lives at Camp Kikiwaka.
October 31, 2015--MONSTOBER SPECTACULAR WEEKEND--
Monstober Spectacular is a Halloween themed weekend made for a crossover between the
Disney Channel Original Series
Jessie
,
Girl Meets World
,
I Didn't Do It
,
KC Undercover
,
Best Friends Whenever
,
Austin and Ally
, and
Liv and Maddie
. The crossover, which aired between 7 episodes, aired on October 2 and 4, 2015, features 2 different characters from each of the shows visiting one another; the
plot device
used to connect the 7 shows is a Halloween party in
Central Park
.
ALTERNATE REALITIES:
TELEVISION CROSSOVER MULTIVERSE--In other foreign films, the events of HIGH SCHOOL MUSICAL instead happened in Argentina, Mexico, Brazil or China.
TVCU-29-Skitlandia and non-canon commercials--Hannah Montana battles Joan of Arc in Epic Rap Battles. She also appears at the Academy of Characters on the Ben and Ari Show. She also appears on Jimmy Kimmel Live (not portrayed by Miley Cyrus, thus a spoof.) The kids from High School Musical appear on Saturday Night Live.
TVCU-80-

Not Another Spoof Movie Universe-Hannah Montana and the kids from High School Musical appear in Disaster Movie.
Cartoon Universe--Hannah Montana appears on Family Guy.
Cartoon Universe 27--Disney Channel characters appear on Mad.
Cartoon Universe 28--Hannah Montana appears in two episodes of Robot Chicken.
Some final notes:
Click here for a list of all of the Disney Channel series. Note that not all of them made connected here, though some of them are still part of the TVCU through other connections that may or may not have already been covered on this website.
And a note on internet sources. I use internet sources. I try to verify those sources when possible. And sometimes I post something that later turns out to be false and I have to remove it. In this case, I was able to check on something I read on the internet and found it was completely false. According to IMDB, in ATOP THE FOURTH WALL episode "Law and Order # 1", there is a reference to
"Hannah Montana: The E! True Hollywood Story." I watched the whole thing, including the credits. I did not hear or see any reference to this. So don't believe everything you read on the internet. If anyone wants to double check, you can find it on YouTube hear. Maybe I just missed the reference. But I watched it closely twice.
I had a lot of fun writing this. I didn't think I would. But it turned out that there was a lot of crossovers, and I had to do a lot of research. It's been a while since I've tackled research heavy TV crossovers, which is what this post is about. So I was glad to get back into it.