Because nobody demanded it, this is a spin-off of my recent Disney post.
It's alright 'cause I'm saved by the bell
1939--SAVED BY THE BELLE--The trio has taken jobs selling fur coats and are sent to the tropical nation of Valeska. Of course, they aren't successful in selling warm clothing in a hot environment. When they get a telegram from their supervisor saying "to get rid of present wardrobe" the local authorities mistakenly thinking it is saying to get rid of President Ward Robey. Thus they face the firing squad. Though they wouldn't die, it would of course hurt a lot and they would be found out as immortals. Fortunately, a revolutionary rescues them. They join the revolution, and deliver secret documents to the revolution leader, but it turns out they were only carrying a rolled up calendar. Again, they face a firing squad but are again rescued when the same revolutionary shows up with the correct documents. [OK, this really had nothing to do with Saved by the Bell, other than the title. I just included it for fun.]
1986--SHADOEVISION--There is an alien talk show host and shapeshifter named Johnny Dakota. Later, on Saved by the Bell, the kids will encounter an actor named Johnny Dakota.
1987 to 1988--GOOD MORNING, MISS BLISS--There is a great synopsis of Saved by the Bell and it's spin-offs, as well as this precursor. It's by Thom Holbrook. Read it here.
Fall 1989--WHO SHRUNK SATURDAY MORNING?--The kids from Bayside, John Candy from CAMP CANDY, and ALF meet to discuss the new NBC Saturday morning line-up.
1989 to 1993--SAVED BY THE BELL--
A TV show centered on six students and their years at Bayside High School in Palisades, California.
1990--TEENAGE MUTANT NINJA TURTLES--In the TVCU, the 80s animated Turtles are canon according to James Bojaciuk, but this live action film exists as a divergent timeline within the greater multiverse. A very specific statue of Elvis that is owned by Screech's parents in the main TVCU timeline appears in this film, instead owned by April O'Neal.
February 1992--TONIGHT SHOW--Jimmy Fallon attended Bayside High. This episode seems to foreshadow the film SHOWGIRLS as though Jesse may have been the main character of that film despite a different character name. It also seems to imply that A.C. will change his name to Mario Lopez and have his celebrity career. Kelley is pregnant in this skit, which must have not carried to term, and was never spoken of again. There is foreshadowing of moving to 90210. Another episode of the TONIGHT SHOW reveals that Zack later changes his name to Mark-Paul Gosselaar and has his celebrity career and that Kelley will go on to change her name to Valerie Malone and will move to 90210. Valerie was supposed to have grown up in Minnesota with the Walshes, but since Kelley wasn't in the Disney version of Saved by the Bell, Good Morning Miss Bliss, perhaps Valerie moved to California her freshman year, and started calling herself by a new name. Witness protection? Then after a brief marriage to Zack, moved to 90210, returning to her real name.
Spring 1992--FRIENDS OF THE PEOPLE--"Black Kids of Bayside"--is about just that.
November 1992--SAVED BY THE BELL: HAWAIIAN STYLE--
Kelly's grandfather, Harry, invites the gang for a vacation at his hotel, the Hawaiian Hideaway, in Honolulu, but they soon discover that a rival threatens to put Harry out of business and scheme to help save the Hideaway.
1993 to 1994--SAVED BY THE BELL: THE COLLEGE YEARS--The kids from Bayside attend California University, which is also the setting for the college years of 90210.
1993 to 2000--SAVED BY THE BELL: THE NEW CLASS--Belding (later joined by Screech) deal with a new batch of kids.
October 1994--SAVED BY THE BELL: WEDDING IN LAS VEGAS--Zack marries Kelley.
January 2003 to November 2007--THAT'S SO RAVEN--Raven attends Bayside High School in San Francisco. Greg (of Dharma and Greg) also attended this high school, as seen in a class reunion episode of DHARMA AND GREG. Bayside High was also the setting of SAVED BY THE BELL, and the same sets are used on That's So Raven. An oddity regarding Bayside High on Saved by the Bell is that the school moves. Perhaps some sort of witchcraft is involved to explain this. When Saved by the Bell went by its original name of Good Morning Miss Bliss (when it was on the Disney Channel, thus linking another Disney Channel show), the setting was John F. Kennedy Middle School in Indianapolis. When the show was retooled by NBC as Saved by the Bell, it now took place at Bayside High in Palisades, California. Did Zack, Screech, and Lisa all move? Also, Principle Belding would have also had to have moved with them. And Jessie on Saved by the Bell was established to have been friends with Zack since they were little kids. It's a strange mystery of the TVCU how these kids and their principle ended up all moving together (with their families as well, of course.) And then another mystery how the school itself later moved across state. Though Good Morning Miss Bliss was on the Disney Channel, and links to That's So Raven, I will later cover the Saved by the Bell franchise in a future blog post.
Click here for Thom Holbrook's view on the migration of Bayside High.
April 2006--ROBOT CHICKEN--"Federated Resources"--Screech shows up to rescue "the Coreys".
September 2008--ROBOT CHICKEN--"Boo Cocky"--This one must only exist in the alternate Robot Chicken Universe, since it involves the kids from Bayside being tortured by Jigsaw from SAW.
Fall 2009 to Spring 2010--AMERICAN PIE PRESENTS: THE BOOK OF LOVE--Meanwhile, back in East Great Falls High, where it all begins, three teen virgins seek out the infamous Book of Love that Kevin consulted in the original film after his older brother revealed it to him. But they accidentally start a fire that destroys the book, which is revealed to have been created by Jim's dad. They decide they must then recreate the book, and sexual misadventures abound. This is said to take place eleven years after American Pie. Though American Pie took place in the spring of 1999, their school year would have been 1998 - 1999, so that would place this in 2009 - 2010. This film was released in 2009.
In order to recreate the book, the original creator Noah Levenstein (Jim's Dad) calls up some contributors from over the years, including Dustin Diamond, C. Thomas Howell, Robert Romanus, Tim Matheson, and Christopher Knight. Since they're not named, we can assume they're older versions of their characters from
Saved by
the
Bell
, Secret Admirer, Fast Times at Ridgemont High, Animal House and the Brady Bunch.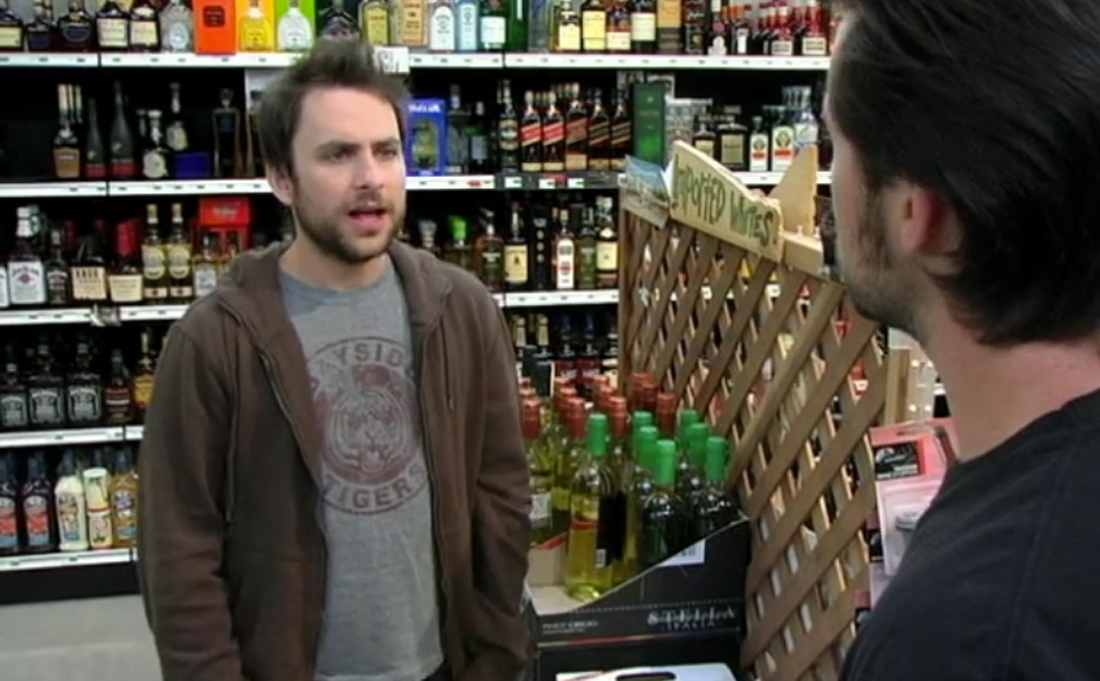 October 2007--IT'S ALWAYS SUNNY IN PHILADELPHIA--"Frank Sets Sweet Dee on Fire"--Charlie is wearing a Bayside Tigers shirt. This is the first time. He'll wear it again in later episodes.
March 2009--MUCHACHADANUI--There is a magical being called Kelikapouski, which is kind of interesting based on my theory earlier that Kelly Kapowski was only an alias used by Valerie Malone.
2009--THE KILLING ROOM--A character is wearing a Bayside Tigers shirt.
2010--THE OTHER GUYS--A character is wearing a Bayside Tigers shirt.
October 2011--RAISING HOPE--"Henderson, Nevada-Adjacent, Baby! Henderson, Nevada-Adjacent!"--Jimmy wears a Bayside Tigers shirt.
January 16, 2012--WWE RAW--Mr. Belding attending a wrestling match.
March 2012--VICTORIOUS--"April Fools Blank"--Mr. Belding appears, thus creating a solid link between the Disney shows and the Nick shows. Victorious, as I'll cover in a later blog, of course connects to iCarley and Sam & Cat.
Spring 2012--GIRLS GONE DEAD--In what must be an alternate universe, several characters have the same names as characters from SAVED BY THE BELL.
August 29, 2014--THE JBL & COLE SHOW--Two bad wrestlers are called to Mr. Belding's office, and another wrestler shared Zack Morris' abilities to freeze time and talk to the audience.
Watch here.
2015--MEDIAS RES--Johnny Dakota, shapeshifting alien celebrity, once more appears.