"The Beverly Hillbillies? They're pretend, Randy. Just like Richie Rich and Donald Trump. They're TV characters."--Early Hickey
Let me begin by stating this, and I hope it's clear. This is not a political post. If you want to know my views on our president, come find me on social media. This is an objective look at our 45th president's fictional counterpart that exists within the Television Crossover Universe.
Whatever is going on in the real world is irrelevant. From a TVCU perspective, this is a historic moment. We've talked about U.S. Presidents before as they exist in the TVCU. But usually, those presidents gain their fictional counterparts retroactively, years after their deaths in the case of pre-television age presidents like George Washington, or once they enter the political world, for those presidents who exist in our television age.
Our current president, Donald J. Trump is a very different kind of president. Well, he told us that when he was running, and he's proven that to be true in office, but that's not what I'm talking about. What I mean is that Donald J. Trump was famous enough before entering politics, and existed in the age of media, to have plenty of appearances of his TVCU counterpart already. And today, again, from an objective TVCU viewpoint, this is what we're talking about. This post neither endorses nor criticizes President Donald J. Trump. This post is a celebration of the first fictional president.
19th Century--TRACKDOWN--A con man named Walter Trump comes to town with a scheme to build a wall. Too weird not to mention.
1945--IRON SKY--At the end of World War II, a group of Nazi scientists flee to the moon.
December 1958--QUANTUM LEAP--"Conundrum"--Time traveler Sam Beckett leaps into the body of a cab driver. He meets meets an angel, who is there to show Sam an alternate life. Incidentally, he also meets Donald Trump, giving him the idea for the Trump Tower. Later, Stephen Colbert will go back in time and try to undo Sam's interference, but only makes things worse.
1970s--54--
Famous 70s NYC nightclub seen and told through the eyes of a young employee. Donald Trump plays VIP patron.
February 1981--THE JEFFERSONS--"My Hero"--
George tells Louise, Helen and Florence that he rescued an old lady from a robbery attempt by fighting off the perpetrator. However, when George learns that the criminal escaped from the police, George becomes frightened and confesses to Louise that he embellished on the story; the robbery was actually averted when George accidentally slipped on a banana peel and crashed into the criminal. Donald Trump plays Donald Trump.
1983 to 2017--REALITY TV, TALK SHOWS, SPORTING EVENTS, WRESTLING, AND NEWS PROGRAMS--It's a TVCU concept that reality TV is not real. I would hold that that's especially true when Donald Trump is on the show. Many talk shows often have fictional characters like muppets, cartoon characters, and movie characters such as Borat and Ron Burgendy. And wrestling is fake. Robocop and Chucky have been on wrestling
January 1985--THE JEFFERSONS--"You'll Never Get Rich"--
George, Louise and Florence go to Atlantic City, NJ. The 3 have different experiences. Louise trying to be 'star struck' but striking out. Florence's hot streak and George...is unbelievable. Donald Trump plays Donald Trump.
1986--MAN OF STEEL # 2--While most of the Post-Crisis Superman stories are not in the TVCU, some are, including those featuring the post-crisis Luthor reimagined by John Byrne to be inspired party by Donald Trump. Luthor can't be Trump. Luthor in this version was born poor, and used his scientific genius to become rich. Trump was born rich and made most of his business through real estate and entertainment. However, they shared many other characteristics which were intentional. Perhaps Power and Coogan were correct that there is some family relationship between the Trumps and Luthors.
1988--SESAME STREET--Martin P. Robinson plays Ronald Grump, a grouch who must be related to Trump.
Summer 1989--Bob Wronski has an encounter with Donald Trump on Cape Cod.
1989--GHOSTS CAN'T DO IT--
Elderly Scott kills himself after a heart attack wrecks his body, but then comes back as a ghost and convinces his loving young hot wife Kate to pick and kill a young man in order for Scott to possess his body and be with her again. Donald Trump plays Donald Trump.
1990--GREMLINS 2--The Gremlins invade Trump Tower. This film has many other crossovers which you can uncover in my Gremlins post and in the Horror Crossover Encyclopedia and the forthcoming Cartoon Crossover Encyclopedia. Dennis E. Power and Doctor Peter Coogan believe that Donald Trump is part of the Luthor family, which they discuss particularly regarding this film, in their Luthor family tree articles at the Secret History of the Wold Newton Universe website.
1991--PIZZA MAN--
A pizza man is on a quest to get $15.23 when someone orders one. He uncovers a plot to rule the world and stops at nothing to get his pay. Donald Trump is played by Simon Richards.
October 31, 1992--DESTROYER--"Ghost in the Machine"--
On Halloween night, 1992, Remo Williams and Chiun investigate a prominent NYC skyscraper that has become intangible.
A self-proclaimed witch uses the Necronomicon and chants "Ia! Ia! Shub-Niggurath!" Also, there's a parody of Tiffany's called Spiffany's, the same name that The Simpsons uses for it.
The issue is that the main villain is a thinly veiled Donald Trump (Randal T. Rumpp) and in the conclusion, Remo kicks him out of the window at the top floor of Rumpp Tower.
Trump appears as a thinly veiled parody, Randall T. Rumpp, who is a sleazy and now bankrupt businessman with idle dreams about one day being President. He teams up with one of Remo's old villains, the Kraseevah, and at the conclusion of the book, Remo kicks him off the top floor of "Rumpp" Tower. So, at least in my fantasy world, Trump was never President. (I've considered that he may have survived and sought out AIM to repair him, eventually becoming MODAAK, but I haven't decided whether or not to do that.
Also, a couple of Lovecraft tomes appear in the book, owned by a self-proclaimed witch, who also tries (and fails) to summon Shub-Niggurath.
Trump doesn't use the Necronomicon. Trump Tower becomes intangible through the actions of the Kraseevah, a former Soviet agent using stolen intangibility tech. In a previous adventure, Remo and Chiun rendered him unable to recorporealize, and in this book he ends up in the phone system of Trump Tower, causing the building to phase slightly out of sync with the rest of the world. The Necronomicon is used by a witch to try and bring the tower back, but she fails at it. [From a friend who I'm not sure wanted to be identified.]
December 1992--HOME ALONE 2--Trump briefly encounters Kevin McCallister. My theory is whatever Trump absorbed from the Necronomicon transferred to Kevin, which he carried back to Shermer, IL, creating the anomalous issues surrounding the Griswald/Griswold family. Watch the meeting here.
1993--THE PICKLE--
Harry Stone (Danny Aiello), a formerly top notch director, has had three disastrous movies in a row. Facing dismissal from the top perch of Hollywood and finacial ruin from back taxes, he is forced to take on a very commercial and, he believes, ridiculous movie. Now as he faces the film's release and, he believes, another total flop which will complete his ruin, he meets up with his son and daughter and his former wives (which includes Dyan Cannon) to examine his life and his future. The film examines the turmoil a movie director goes through with a film release. His agent (Jerry Stiller) assures him that he has a hit, while those around him wince (as does the audience) at the thought of the movie within the movie. The movie is "The Pickle", a supposedly social satire where a bunch of super-white kids from Kansas take vegetables into space via a super cucumber and land on an Earth-like planet where everyone lives only on beef and die at age 49. As shown in the excerpts of the film, Little Richard stars as the President of the planet who has 6 months to live, Ally Sheedy heads up the Kansas contingent, and Griffin Dunne is the President's aide who falls in love with Sheedy. Donald Trump plays Donald Trump.
May 1994--FRESH PRINCE OF BEL-AIR--"For Sale by Owner"--
Donald J. Trump
is interested in buying the Banks estate. While the family considers the offer, they think about all the good times they had in the house. Donald Trump plays Donald Trump.
1994--STARS AND STREET FOREVER--In this anniversary, Joe Pesci plays Ronald Grump.
1995--ACROSS THE SEA OF TIME--
A young Russian boy, Thomas Minton, travels to New York as a passenger on a Russian freighter. Close to Ellis Island he gets off and thus starts his journey to America the same way as all immigrants in former times. Thomas is searching for the family of one of his ancestors, who had emigrated decades ago, but once sent a letter home together with a sample of his new profession: 3D-Photography. The boy follows his relative's traces by counter-checking the old 3D-Photographs of New York (using an antique viewer) with the same places and how they look today. This way, the audience gets to see the Big Apple in former times as well as today. Donald Trump plays Donald Trump.
1996--EDDIE--
Eddie is a New York limo driver and a fanatical follower of the New York Knicks professional basketball team. The team is struggling with a mediocre record when, in mid-season, "Wild Bill" Burgess, the new owner, as a public relations gimmick, stages an 'honorary coach' contest, which Eddie wins. The fans love it, so "Wild Bill" fires the coach and hires her. She takes the bunch of overpaid prima donnas that make up the team and turns them around. But the owner hopes to move the team, now the darling of the New York fans, to St. Louis. He may OWN the team, but it BELONGS to the city and the fans! Donald Trump plays Donald Trump.
October 1996--THE NANNY--"The Rosie Show"--
After getting picked from the audience for the Rosie Show, Fran finds herself a regular, giving parenting advice. As her celebrity grows, Maxwell becomes afraid he's going to lose her. Donald Trump plays Donald Trump.
1996--THE ASSOCIATE--
A comedy about making it on Wall Street. Prejudices are hard to break and Laurel Ayres quickly learns that in order for people to take her seriously she has to work for an older white man or be one. Donald Trump plays Donald Trump.
May 1997--SUDDENLY SUSAN--"I'll See That and Raise You Susan"--Donald Trump plays Donald Trump.
May 1997--THE DREW CAREY SHOW--"New York and Queens"--
After a disastrous trip to New York to sell Buzz Beer, the gang makes a shocking discovery: The Rocky Horror Picture Show (1975) has been replaced as the weekend midnight movie with The Adventures of Priscilla, Queen of the Desert (1994), leading do a drag-off in the streets with Mimi and her Priscilla cronies. Donald Trump plays Donald Trump. Drew and gang also encounter one of the detectives from NYPD BLUE in this episode.
October 1997--NIGHTMAN--"Whole Lotta Shakin'"--Donald Trump plays Donald Trump.
October 1997--NIGHTMAN--"Face to Face"--
A convict after being savagely beaten in prison is operated on by a plastic surgeon who's trying a new procedure but somehow it gives the man the ability to alter his face into anyone's. So he alters his face to look like the doctor and walks out the prison. He then sets out to go after the ones who placed him in prison and among them is Johnny's father. Donald Trump plays Donald Trump.
January 1998--SPIN CITY--"The Paul Lassiter Story"--
Randall has a tight deadline for writing a book but can expect no help from close-mouthed Mike, whose recent doctor visit hints that he may have cancer. And several staffers try to obtain new office chairs from a snooty supply technician. Donald Trump plays Donald Trump.
1998--CELEBRITY--
The fortunes of a husband and wife differ drastically after they divorce. Donald Trump plays Donald Trump.
1998--FRIENDS--"The One With the Kips"--
Chandler and Monica both mention sharing an elevator with Trump in Atlantic City.
October 1998--SABRINA, THE TEENAGE WITCH--"Good Will Haunting"--
Hilda and Zelda go to their Aunt Beulah's Halloween party that takes place in an asylum. Sabrina's party is terrorized by a talking doll from the Other Realm. Donald Trump plays Daniel Ray McLeech.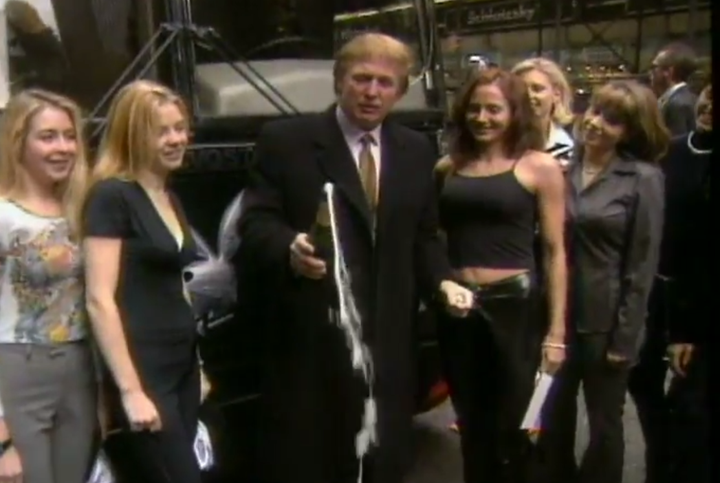 1999--PLAYBOY VIDEO CENTERFOLD 2000--Donald Trump was in a softcore porn.
July 1999--SEX AND THE CITY--"The Man, the Myth, the Viagra"--
After walking out on her date who turned out to be still married despite his claim to be divorced, Miranda is happy to be picked up by cocky barman Steve, who soon wants more then their one-night stand. Carrie believes her rekindled relationship with Mr. Big is good enough to get him to know her friends a little better. Samantha has an atypical lover, even for a man-eater like her: Donald Trump's single friend Ed is past 70, so will his old-fashioned wooing and lavish gifts outweigh his physical decay? Donald Trump plays Donald Trump.
November 1999--CELEBRITY DEATH MATCH--"HIGH TECH FIGHTING"--
Richard Simmons and Billy Blanks host a killer workout regime; Don King and Donald Trump wage war, with the loser paying in blood; Keanu Reeves and Brad Pitt lead in a virtual-reality showdown. Donald Trump is played by Tommy C. I don't know if Trump dies in this. My usual explanation for Celebrity Death Match is that they use clones, but considering Trump's Necronomicon/Old Ones experience, I think he probably can no longer die.
2001--BLACK NOISE--
A team of sound engineers unknowingly creates KILLER sounds for the CIA when suddenly the sound disappears, and one by one, so do the engineers. Donald Trump is played by Lee Becker.
November 2001--SOUTH PARK--
Kyle's cousin Kyle, a negative Jewish stereotype, comes to town to visit. Meanwhile, Mr. Garrison comes up with an only-slightly more pleasant alternative to airline travel. Donald Trump is played by Trey Parker. Clearly in the Cartoon Universe, South Park, Trump didn't run because of Garrison, but in the TVCU, the reverse it the case.
2001--ZOOLANDER--
At the end of his career, a clueless fashion model is brainwashed to kill the Prime Minister of Malaysia. Donald Trump plays Donald Trump.
December 2001--TWICE UPON A CHRISTMAS--
Santa's first born daughter, Rudolfa, is secretly selling pieces of the North Pole, and eventually take over where she attempts to ruin Christmas, and replace Santa's workshop with a brand new casino. But Santa's lost daughter Kristin returns to the North Pole with her two children who are desperate to save Christmas, and rebuild the shattered village. Donald Trump is played by Sean Allen.
July 2002--MONK--"Mr. Monk and the Psychic"--
When a woman drives off the road to her death, her body is mysteriously found the next morning by a psychic known for fudging the truth. Monk must discover if she's telling the truth this time, or else let a murderer go free. Donald Trump plays one of the men in the party.
2002--DONALD TRUMP'S REAL ESTATE TYCOON!--Donald Trump plays Donald Trump.
2002--TWO WEEKS NOTICE--
A lawyer decides that she's used too much like a nanny by her boss, so she walks out on him. Donald Trump plays Donald Trump.
2004--MARMALADE--
Marmalade is a romantic comedy about a fashion model who gets too old to continue her work. Her demise in her professional life happens as her personal life falls completely apart. Donald Trump plays Donald Trump.
2005--SESAME STREET--GROUCH APPRENTICE--Martin P. Robinson now plays Donald Grump, who must be the twin brother of Ronald Grump.
September 2006--STUDIO 60--
"There's always been a struggle between art and commerce. But now I'm telling you art is getting its ass kicked. And it's making us mean. . . . It's making us cheap punks. People are having contests to see how much they can be like Donald Trump. We're eating worms for money. . . ."
- Wes Mendell
March 2010--THE CLEVELAND SHOW--
Cleveland takes Donna on a belated honeymoon to New York, but Cleveland spends more time with his friends than her. Meanwhile, the kids try to sell a pilot to MTV, and Coach McFall tries to "rekindle a romance" with Tyne Daly. Donald Trump is played by Will Sasso.
October 2011--HORRORWEEN--
Some young entrepreneurs strike it rich and then move into a high class neighborhood. They try to impress their new celebrity neighbors by having a haunted house. Donald Trump plays Forbes cover billionaire.
December 19, 2013--EPIC RAP BATTLES OF HISTORY--"Donald Trump vs. Ebenezer Scrooge"--Trump uses whatever Epic Rap Battle time travel device they use to battle Scrooge. From Scrooge's perspective, this must take place during the events of A CHRISTMAS CAROL.
June 16, 2015--SIMPSONS--"Trumptastic Voyage"--Donald J. Trump announces he will run for president. Homer J. Simpson is paid to be there and cheer. He gets to close to Trump's hair and gets sucked into a pocket reality. Within this hair realm are Amelia Earhart, Bigfoot, the monkeys and monolith from 2001: A SPACE ODYSSEY, and the Hamburglar. Somehow he is there for years and yet only for seconds. Technically, in the classic TVCU timeline, this would be considered part of the Bongo/Zed Anomaly, but in the new TVCU canon, this is relegated to the Cartoon Universe. I prefer this to be in the TVCU, particularly because of the Mr. Garrison problem I lay out below in the Alternate Realities section. Watch the video here.
2015--THE 2000'S: A NEW REALITY--Donald Trump plays Interviewee.
February 6, 2016--SATURDAY NIGHT LIVE--"Larry David/The 1975"--Derek Zoolander makes his second appearance on Weekend Update with Hansel to discuss the fashion of presidential candidates. They highly praise Trump as a male model. This is Zoolander's second appearance on Weekend Update. Weekend Update is established as part of the TVCU as a real news program within the fictional universe, and has had many many other crossovers, including Borat, Father Guido Sarducci, Big Bird and so many others. Watch the interview here.
October 2016--COMICS.COM--"Stalker"--Boris and Natasha apparently met with someone at Trump Tower.
October 19, 2016--BAD HOMBRES, NASTY WOMEN--UHF News hosts the final debate between presidential candidates Donald J. Trump and Hillary Clinton. UHF of course was a song and film from the 1980s by Weird Al Yankovic. Since I'm still having trouble embedding YouTube videos, you can watch it here. The film UHF also featured the interocitor, a fictional device that first appeared in THIS ISLAND EARTH. Originally, in UHF, the channel was managed by George Neuman (played by Yankovic). The film ended with UHF 62 becoming hugely successful, so it could make sense that somehow it evolved into a national network called UHF. Here Yankovic is actually playing himself. Both are Yankovic creations, so I'm sure the link it intentional.
The Possible Future....
January 2021--THE SIMPSONS--"Bart to the Future"--Lisa Simpsons becomes our 46th president, following Donald J. Trump. For this timeline, I'm including the Simpsons in the TVCU because it works for this timeline. However, we must assume from this that the bulk of the Simpsons takes place in 2000 in the TVCU, and that they age normally.
ALTERNATE REALITIES:
CARTOON UNIVERSE: In the Cartoon Universe, it's a very complicated situation. Donald J. Trump is president as seen on the Simpsons, except that Mr. Garrison is the president, as seen on SOUTH PARK. Sigh. See my Cartoon Crossover Encyclopedia, whenever I finish it, for more on how the Cartoon Universe is actually a patchwork of overlapping realities that have become interconnected. Trump has also appeared twice on Tiny Toon Adventures, played by Danny Gans and Rodger Bumpass.
DARKEST TIMELINE--As seen in BACK TO THE FUTURE 2, in an alternate reality, Biff Tannen gets a sports almanac from the future that makes him rich. It appears in this reality, he gains the successes that would have been Trump's in the regular timeline. Tannen is killed shortly after. It's unknown how Tannen's death would have then affected Trump.
IRON SKY DIVERGENT TIMELINE--Only mentioning this because later I mention another Sarah Palin thing. In this divergent timeline, Sarah Palin ran for president in 2016 and won instead of Donald Trump. In 2018, when this film takes place, she is running for reelection.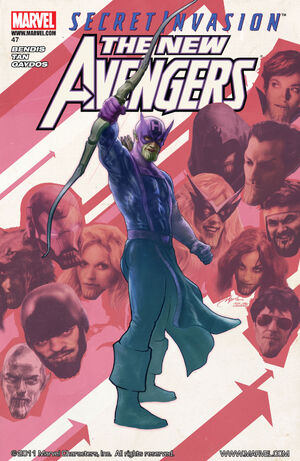 MARVEL UNIVERSE (EARTH-616)--This can't be in the TVCU. Luke Cage meets and intimidates Trump, but it's tied into Secret Invasion and has many characters that would be too old by 2009. Trump has also appeared in Web of Spider-Man # 6.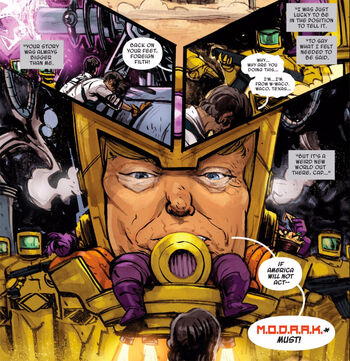 MARVEL MULTIVERSE (EARTH-65)--In the alternate universe where Gwen Stacy became Spider-Gwen, Donald Trump became MODAAK (Mental Organism Designatd As America's King). Captain America stopped his scheme to build a wall.
SKITLANDIA/NOT ANOTHER SPOOF MOVIE UNIVERSE--
Anthony Atamanuik plays Trump in Trump vs. Bernie Debate, The Chris Gethard Show, and @Midnight.
James Fuetterer plays Trump in The Apprentice: VP Edition, Keeping Up with the Kandidates, and Bernie Sanders Hires the A-Team.
Jimmy Fallon plays Trump on Late Night and the Tonight Show.
John Di Domenico plays Trump in Meet the Spartans, Not Another Celebrity Movie, Marino 2016, President Trump: Can He Really Win? and You Got Trumped: The First 100 Days.
Phillip Wilburn plays Trump in Sharp News, CollegeHumor Originals, and Drump Drumpf!
Robert Berlin plays Trump in You Be Drankin, Donald Trump's Numbers are Sinking, Donald Trump Meets Panther the Publicist, and Donald Trump Florida Tour 2016.
Shayne Topp plays Trump on Smosh and the Big What If.
SNL variant--Though I place Weekend Update in the TVCU, I would argue that the various incarnations of Trump played on Saturday Night Live are in the weird alternate dimension Toby O'Brien calls Skitlandia.
TVCU 2--Donald Trump plays Waldo's dad in the reboot of THE LITTLE RASCALS. Does this mean that the original Waldo from the original Little Rascals is related to the Trump/Luthor family? Trump also appears in the NEW ADDAMS FAMILY played by Scott Swanson. And finally, in the pilot for TIME AFTER TIME, when H.G. Wells sees Donald Trump's America, he cries.
ZOMBIELAND--This is slightly off-topic, but in my fictional Trump research, I came across a few fun fictional Sarah Palin as president things that I couldn't resist mentioning. "Zombieland" is the divergent timeline in which the George Romero zombie movies take place. Even though the Romero zombie movies started with Night of the Living Dead in the 1960s, in this divergent timeline, it's presumed the zombie apocalypse began around 2010 and most of the movies actually take place within the past seven years. Non-Romero films that are clearly inspired by Romero also could take place here, such as Zombieland and the Walking Dead series. In the television series, Supernatural, there was a storyline in season 5 in which the Winchesters triggered the Biblical apocalypse from Book of Revelations. In one episode, Dean Winchester travels five years into the future, from 2009 to 2014. This is a timeline he later prevented from existing. In this timeline, there was a zombie problem, and I propose that it's the Winchesters fault that Zombieland exists, but they also prevented Zombieland from becoming the main TVCU timeline. (There's another issue with the Return of the Living Dead. I talk about that in another post. I'm not going into that here). I said all of that just to explain this. In the future year 2014 that Dean visited, Sarah Palin is president, meaning that in this alternate timeline created by the Winchesters, not only are we dealing with Satan's apocalyspe and zombies, but it's also a timeline where Sarah Palin defeated Barack Obama in the 2012 elections and became president.
Donald Trump. You were really great in the world of fictional entertainment. I wish you'd give up this president thing and go back to TV cameos and reality shows.