I'm going to do something different.
In the premiere episode of our new TVCU podcast, Random Fandom, we discussed Scooby-Doo Team-Up.
RF Episode 1: Scooby-Doo Team-Up
Doing the research for that show inspired this blog post. I've covered Scooby-Doo before.
You can read that post here.
But that post covers Scooby-Doo as he exists in the Horror Universe, by including excerpts from my Horror Crossover Encyclopedia.
But this is a different take. I'm doing this post as a six degrees of SCOOBY-DOO TEAM-UP. This comic series is the starting point, under an assumption that this comic series takes place in an alternate reality within the Television Crossover Multiverse, and that only that which is provided by evidence within the series exists in this universe.
So this is something new. Let's see how it goes.
The universe of Scooby-Doo Team-Up clearly takes place in a sliding cartoon/comic book timeline. So I'm placing things in an assumed chronological order with a loose system for exact dating.
DAWN OF TIME
10 billion years ago:
Secret Origins v.2 #10 (1.87)--
An angel who refused to take a side in the war against Lucifer is stripped of his wings and his very name and identity. He is banished from the Silver City, forever to be known as the Brotherless One, or the Grey Walker. He is best renowned as the mysterious Phantom Stranger. T
his is the Phantom Stranger's first chronological appearance and only
one
possible origin.
The Flintstones --
The misadventures of two modern-day Stone Age families, the Flintstones and the Rubbles.
Fruity Pebbles
,
Ice Cream Pebbles
, and
Cocoa Pebbles
are brands of
breakfast cereal
introduced by
Post Foods
in 1971
featuring characters from the animated series
The Flintstones
as
spokestoons
.The cereals debuted in 1971. Cocoa Pebbles contains
chocolate
-flavored
crisp rice
cereal bits, while Fruity Pebbles contains crisp rice cereal bits that come in a variety of
fruit
flavors with a
sugar
content of 9 grams per serving for Fruity Pebbles and 10 grams per serving for Cocoa Pebbles.
It is the oldest cereal brand based on characters from a TV series or movie.
Commercials after about 1978 were entirely animated, and would have a typical plot repeated with various differences. Fred eats cereal while Barney would want some as well; to that end, Barney would either disguise himself or distract Fred from his bowl of the cereal using various creative and increasingly outrageous means. While Fred was distracted, Barney would eat some Pebbles, but Fred would quickly discover Barney's lies, usually due to Barney's excitement at eating the cereal would cause his costume to be destroyed. Angry about his breakfast being stolen, he would normally exclaim, "Barney! My Pebbles!" Barney would then chuckle and deliver a comedic line while running away from the angry Fred, and Fred would give chase.
THE FLINTSTONES & WWE: STONE-AGE SMACKDOWN!--
Fred Flintstone and friends meet John Cenastone and other famous wrestlers.
ERA OF MYTHOLOGY AND BIBLICAL STORIES
c. 1260 BCE,

19th Dynasty, reign of the Ramses II

:
Flash v.1 #1 (1.40), Secret Origins #11 (Feb. 1987)--
In Egypt, Prince Khufu and his beloved Chay-Ara are murdered by the mad priest Hath-Set. The lovers are fated to be born again forever;
3,500 years later
, they are reincarnated as Carter Hall and Shiera Sanders.
The date of these events, not stated in the original version of the story, was said to be 1567 BCE (
Secret Origins
#11). Some accounts incorrectly cite the 15th Dynasty (
Hawkman
v.4 #9,
JSA
#43).
c. 970–931 BCE--
Reign of
Solomon.
18 March AD 37 – 24 January AD 41--
Reign of
Caligula.
434–453--
Reign of
Attila.
6th Century--
Other notable figures of the Arthurian era include
the Silent Knight
(Brian Kent, an incarnation of Khufu/the Hawk Avatar;
see 13th Century BCE
).
Silent Knight:
SO
v2 #49 <6.90> [erroneously makes him post-Arthurian,
contra
B&B
v1 #10 <2-3.57> and others]; re: Khufu,
Hawman Annual
#2 <95>; (1st app.
B&B
v1 #1).
c.
1330 to
March 22, 1418--Life of
Nicolas Flamel.
31 December 1378 – 6 August 1458--Life of Borgia.
September 3, 1530 to
March 28, 1584--Life of Ivan the Terrible.
19TH CENTURY/1800S--THE OLD WEST AND VICTORIAN ENGLAND
1860--
Western #5 (10.48)--
Hannibal Hawkes becomes the
Nighthawk
.
1878--
February 18:
Weird Western Tales #48-49 (1978)--
18-year old Katherine "
Cinnamon
" Manser gains her reputation as a fierce and determined bounty hunter, law enforcer, and expert in the use her guns.
THE STRANGE CASE OF DR. JEKYLL AND MR. HYDE (NOVEL BY ROBERT LOUIS STEVENSON)
Release Date:
January 5, 1886 (Contemporary setting)
Series:
Dr. Jekyll and Mr. Hyde
The Story:
A scientist creates a formula that unlocks his dark side.
Notes:
Unlike with Dracula and Frankenstein, I consider the Universal film version of this to be the same events, rather than having hundreds of Hyde variants out there.
WORLD WAR II AND THE GOLDEN AGE OF SUPER-HEROES
G.I. Combat #87--
"Introducing -- the Haunted Tank"--
Jeb Stuart the commander of an M-3 tank and his crew assist a squad of heavier Pershing tanks. The Pershings are destroyed by enemy bombers, leaving only Stuart's tank to take on a squad of heavy German tanks.
The tiny tank is shelled by the heavy guns of a German "Tiger" tank, and it falls into a ravine. The crew is knocked out, leaving it an easy target for the enemy tank. However, the M-3 manages to fire a shot that destroys the enemy tank. When Jeb and the crew awaken, they are shocked to find the enemy tank destroyed, as they had not fired their gun.
The tank then continues on its mission to protect a squad of infantry. Using its better speed and manueverability, the M-3 is able to take on and defeat an entire unit of German tanks. Jeb Stuart is the only one that can hear laughter which comes from the ghost of civil war General Jeb Stuart, who has protected his descendant and the tank.
Reprinted In:
Showcase Presents:Haunted Tank Vol. 1 TPB
(2006)
Sensation Comics #1--
(The Origin of the Gay Ghost)--
The Gay Ghost's origin is revealed. He also reanimates the dead body of Charles Collins in this story. Future appearances of the Ghost feature Everet inhabiting Collins' body, but the original dies in this story.
The Gay Ghost's name was later changed by DC to the Grim Ghost to greater reflect the times. For the purposes of this timeline however, he will be referred to by his original name.
Reprinted In:
Millennium Edition:Sensation Comics 1 (#41)
(2000)
Flash Comics #29--
(Introducing the Ghost Patrol)--First appearance of
Ghost Patrol.
Bulletman #10--First appearance of
Bulletdog.
Crack Comics #27--
(Introducing Captain Triumph)--First appearance of
Captain Triumph.
Star Spangled Comics #36--
"The Battle with the Beasts"
-- First appearance of
Robbie the Robot Dog.
Rex the Wonder Dog #1--
"Trail of the Flower of Evil"--
Rex the Wonder Dog witnesses three men murder a professor outside his house. Phillip, the brother of Rex's owner Danny, is passing by when the murder happens. The killers knock out Phillip and frame him for the crime. Rex tries to stop them, but he fails. The dog does remember the smell of a distinctive flower worn by one of the crooks. Rex follows the smell and locates the crooks. He relentlessly runs them down, forcing one of them to confess which clears Phillip of the murder.
THE LEAD-IN TO THE SILVER AGE -- THE CHILDHOOD ORIGINS OF SUPERMAN AND BATMAN
35 Eorx, 9998 (Kryptonian calendar)/
February 29 (Earth date)--
Kal-El, the son of Jor-El and Lara Lor-Van, is born in Kryptonopolis, capitol of the planet Krypton.
Neither Superman's homeworld nor his parents were named until the first installment of the Superman daily newspaper strip on Jan. 16, 1939, which also revealed Superman's Kryptonian name (originally spelled Kal-L, a spelling later attributed to the Earth-Two Superman). The Earth-One Superman's terrestrial birthday
was established in
World's Finest
#235 (1976).
World of Krypton #2 (Aug. 1979)
Bruce Wayne is born in Gotham City to Thomas and Martha Wayne.
The year of Bruce's birth is the date shown on his tombstone in
America vs. the Justice Society
#1.
World's Finest Comics
#33 and
Star-Spangled Comics
#91 both indicate that Bruce's birthday is in April, while the latter story adds that he was born on the 7th of the month. According to Jim Steranko's
Steranko History of Comics Vol. 1
(1971), Batman's secret identity was devised by Bill Finger. The character was named for Scottish patriot Robert the Bruce (later Robert I of Scotland, 1274–1329) and American Revolutionary War General "Mad Anthony" Wayne (1745–1796).
(World's Finest #33, March/April 1948), (Star-Spangled Comics #91, April 1949), (America vs. the JSA #1, Jan. 1985)
39 Ogtal, 10,000 (Kryptonian calendar)--
As Krypton begins its final death throes, young Kal-El rockets to Earth in a tiny starship.
Golden Age versions of Superman's origin generally indicated that he had left Krypton as an infant while in post-Crisis continuity, he had not technically been born yet at the time of his departure. On Earth-One, Kal-El was two years old when Krypton exploded.
(Action Comics #1, June 1938)
SUPER-BABY ERA
Kal-El lands in Smallville, where he immediately gains super powers under Earth's yellow sun. He is adopted by Jonathan and Martha Kent and given the name Clark Kent.
Superman's adoptive parents first appeared in
Superman
#1 (Summer 1939). Earlier published versions of his origin said only that he was found by "a passing motorist" while the early episodes of the
Adventures of Superman
radio series indicated that Kal-El arrived on Earth as an adult. In September 1942, a retelling of Superman's origin on the radio series (now airing on the Mutual Broadcasting System rather than in syndication) identified his foster parents as
Eben and Sarah Kent
. The names Jonathan and Martha were introduced in
Adventure Comics
#149 (1950) and
Superboy
v.1 #12 (1951) respectively. Clark Kent's post-Crisis origin was first told in
Man of Steel
#1 (June 1986).
SUPERBOY ERA
While walking home from a movie with his wife and young son, Thomas Wayne is shot and killed by Joe Chill. Seeing Thomas shot causes his wife Martha to suffer a fatal heart attack, leaving their son Bruce an orphan. Young Bruce is left in the care of his uncle, Dr. Philip Wayne. Bruce vows to devote his life to avenging his parents' deaths.
The precise date of the Waynes' murders was established in
Secret Origins
#6. While early accounts of these events indicate that both Thomas and Martha Wayne were both shot to death,
Batman
#47 [3] (June/July 1948) states that Martha Wayne actually died of a heart attack after witnessing the shooting of her husband, an explanation repeated in most published version of Batman's origin until the early 1970s. According to
Detective Comics
#235 (Sept. 1956) (and most accounts of the Earth-One Batman's origins), Joe Chill was not a mugger, but a hitman hired by Lex Moxon. As mentioned above, the placement of the latter story in this continuity is troublesome; it was never definitively established if Lew Moxon was responsible for the deaths of the Waynes in this timeline. The guardianship of Bruce's uncle Philip was first mentioned (in connection with the Earth-One Batman) in
Batman
#208 (Feb. 1969). Philip Wayne's role in Earth-Two continuity was established by
Secret Origins
#6. According to
Secret Origins
#6, the Waynes were murdered after seeing a movie starring Rudolph Valentino. Historically, the only two Valentino films in theatres during 1924,
Monsieur Beaucaire
and
A Sainted Devil
, were not released until later in the year, after these events.
Detective #33 (Nov. 1939),
Secret Origins #6 (Sept. 1986)
Krypto
arrives on Earth and is reunited with his master.
Adventure #210 (May 1955)
Richard (Dick) Grayson is born to John and Mary Grayson.
The year is that shown on Dick's tombstone. An episode of the
Adventures of Superman
radio series (aired Sept. 25, 1946) gave Dick's mother's name as Yvonne and indicated that she was of French extraction. Neither point was ever reflected in the comic books.
(Last Days of the JSA, 1986)
Superboy meets boy genius Lex Luthor (1st chronological appearance). While working on an antidote for Kryptonite, Luthor creates a primitive "protoplasmic lifeform." When a fire breaks out in the lab, Superboy puts it out with his super-breath. The resulting fumes destroy Luthor's creation and cost him his hair. Luthor swears vengeance on the Boy of Steel.
Luthor's first appearance was
Action #
#23 (Apr. 1940), but
Adventure Comics
#271 was the first time his origin was told and he was given a first name.
In the mainstream post-Crisis universe Superman and Luthor did not meet until they were adults. Their first confrontation is described in
Man of Steel
#4 (Sept. 1986).
Adventure #271 (Apr. 1960)
Superboy #131--
"The Dog from S.C.P.A."--
While Superboy is away on a mission with the Legion of Super-Heroes, Krypto meets a group of super powered dogs known as the Space Canine Patrol Agents. Krypto allows himself to be captured by a gang of dog crooks, in order to find missing S.P.C.A. memebers. Krypto then loses some of his powers due to a piece of Kryptonite gum. Krypto and the other dogs still manage to escape and stop the Canine Caper Gang. Afterwards Krypto returns to Earth hoping for another adventure with the S.P.C.A.
LI'L ABNER--
This story involves two warring fictional countries, Slobbovia and Wildechaya. The name Slobbovia comes from a
postal game played in the 1970s
, which in turn came from the country of
Lower Slobbovia
in the
Li'l Abner
comic strip. Wildechaya is from the Yiddish term "vilde chaye", meaning a rambunctious or wild person.
Detective Comics #1 --
(The Streets of Chinatown) --
Slam Bradley, a roughneck private investigator, is summoned by Police Captain Frawley to assist Rita Carlisle. Rita, the daughter of a chain-store owner wants Slam to guard her dog Mimi. Bradley is insulted by the job and rudely refuses her, but he tells Shorty Morgan, an admirer of Slam, to take the job.
Shorty guards the dog while Rita visits Chinatown. When she disappears, Shorty summons Slam to help locate her. Slam finds a secret passage in a china shop, which leads him to Chinatown leader Fui Onyui. Fui has kidnapped Rita, but Slam braves the chinaman's deathtraps and rescues her. Shorty lays a trap of his own which snares Fui. Slam is impressed and takes Shorty as a partner.
Reprinted In:
Millennium Edition:Detective Comics 1 (#57)
(2001)
Clark Kent is hired by Perry White as a reporter for the Metropolis
Daily Planet
.
In his first comic book appearance in
Action #
1 (June 1938), Clark Kent was hired by editor George Taylor of the Metropolis
Daily Star
, a story now attributed to the Earth-2 ("Golden Age") Superman. The definitive pre-Crisis account of Clark Kent's hiring appeared in
Superman
v.1 #133 (Nov. 1959). The post-Crisis version was told in
Man of Steel
#2 (July 1986).
(Superman v.1 #133, Nov. 1959), Man of Steel #2 (July 1986)
Superman meets
Daily Planet
cub reporter
Jimmy Olsen
, who becomes known as Superman's Pal. Superman provides him with a
signal watch
to alert Superman in the event of trouble.
Jimmy was first introduced in the April 15, 1940 episode of the
Adventures of Superman
radio series. An unnamed office boy of similar appearance debuted in
Action #
6 (Nov. 1938), sometimes considered to be Jimmy's first appearance; he was first named in
Superman
v.1 #13 (Nov. 1941). The definitive pre-Crisis account of Superman's first meeting with Jimmy Olsen, was told in
Jimmy Olsen #
36 (Apr. 1959). The post-Crisis version of that story and Jimmy's first chronological appearance in post-Crisis continuity was in
World of Metropolis
#4 (July 1988).
In pre-Crisis continuity, although Superman encountered Jimmy Olsen as Superboy, thanks to a post-hypnotic suggestion, he did not remember their earlier meetings when they later met in Metropolis.
(Jimmy Olsen #36, Apr. 1959), (World of Metropolis #4, (July 1988)
A bat flying into the open window of Bruce Wayne's study inspires him to create a new identity for his war against crime: the Batman.
This scene, conceived by Batman co-creators Bill Finger and Bob Kane, may have been inspired by a very similar scene in the debut adventure of the Bat, a pulp adventurer who appeared in
Popular Detective
magazine in Nov. 1934. The Bat's adventures, credited to Better Publications house name C.K.M. Scanlon, may have been written by Johnston McCulley, the creator of Zorro.
(Detective #33, Nov. 1939), Secret Origins #6 (Sept. 1986)
Flash Comics #1 (Jan. 1940), Secret Origins #11 (Feb. 1987)--
Carter Hall, the reincarnation of Prince Khufu, encounters
Shiera Sanders
, the reincarnation of Khufu's lover Chay-Ara. Wearing artificial wings and a belt of ninth metal, he becomes
Hawkman I
, battling and apparently slaying Doctor Anton Hastor, the reincarnation of Hath-Set.
Hawkman was the only character to appear in every Golden Age issue of
All-Star
and
Flash Comics
. His origin was retold in
Secret Origins
#11, which also established the date of his debut.
SCOOBY-DOO TEAM-UP # 3--
Bat-Mite
This one brings in Batman, both another tie-in to the New Adventures of Batman and Batman: The Brave and the Bold.

Also brings in Larry from the original Teen Titans series.

The Batusi is mentioned, a reference to Batman'66

It's also mentioned that Batman has that deep voice, which is a modern thing that originated with Michael Keaton. (Since this doesn't specifically bring in any particular story, I would only reference our discussion of this on the podcast. Ivan points out a flashback story that reveals it was Alfred's idea for Bruce to come up with the voice, after Batman had already been operating for a while. This would help explain why the earlier Scooby/Batman team-ups have Batman with a regular voice, but why he (and Ace) would have the deeper voices now. Also, considering the Gotham Girls team-up later on.

Mites being from Fifth dimension is referenced, something first introduced in World's Funnest.

Crisis/multiverse reference
SCOOBY-DOO TEAM-UP # 4--
Teen Titans Go
Reference to Robin being the same Robin from previous issues even though he's clearly different.

Reference to Robin and Shaggy having same voice actor
SCOOBY-DOO TEAM-UP # 5--
Wonder Woman
This Wonder Woman has pre-crisis and post-crisis elements

Shaggy doesn't count as a man.
SCOOBY-DOO TEAM-UP # 6--
Super Friends
This is the original version of the Super Friends. Not the new DC Super Friends comic version.

Nice reference to what became of Marvin and Wendy, but what became of Zan and Jayna?

Shaggy and Scooby controlling Sinestro's ring. Also, the fear controlling the ring is a post crisis element.

Supergirl appearing in the costume from her one-time appearance in the Super Friends comic book.

Brainiac's monkey is shown in flashback to Brainiac's first silver age appearance.

Wonder Woman references the previous issue she was in.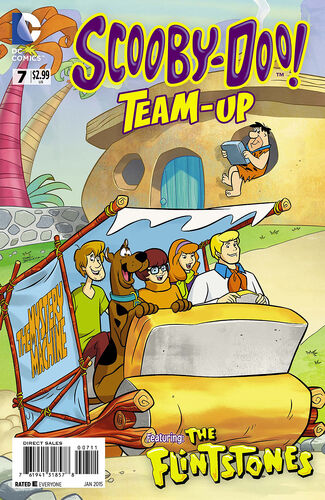 SCOOBY-DOO TEAM-UP # 7--
Flintstones
The Flintstones lived 10,000 years in the past, not 1 mIliion B.C. as was the original canon.

Fruity Pebbles commercials are referenced as canon.

Gruesomes ancestors of the Addams Family or possible the Creepleys.

Flintstones/WWE crossover referenced.

Dino's dialogue call-back to his origin story

This takes place before Flintstones meet the Jetsons.

Shaggy makes fun of record players because Scooby has remained contemporary

This takes place before Jetsons meet Flintstones.
SCOOBY-DOO TEAM-UP # 8--
Jetsons
This takes place a thousand years in the future, and before Jetsons meet Flintstones because they are unfamiliar with time travel.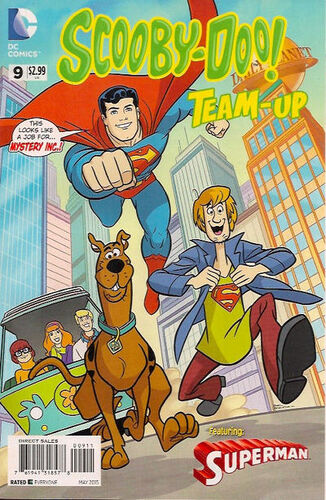 SCOOBY-DOO TEAM-UP # 9--
Superman
This is classic Pre-Crisis Superman. Krypto is not from the cartoon but the silver age version. References to Elastic Lad, signal watch, that pool at the fortress that gives powers, the Fortress itself, the Jimmy Olsen Fan Club etc.

No Z in Brazier reference to Margot Kidder's Lois from the Christopher Reeve movies.

Perry White references the classic George Reees episode where a crook pretends to be ghost of Caeser to drive Perry crazy.

Reference to the previous Super Friends issue.

Lois' costume looked a bit like the one seen in Lois and Clark

Lots of classic villains, Professor Pottor, Space Canine Patrol Agency
SCOOBY-DOO TEAM-UP # 10--
Johnny Quest
Not much to say about this one but it's a good place to mention I love how each episode feels like it takes place in the guest star's show.

Fred mentions that Johnny reminds him of Mystery Inc. when they were that age. That could be a reference to A Pup Named Scooby-Doo.

Reference here and throughout the series to Mystery Inc still being kids. This seems to only acknowledge original Scooby Doo Where Are You and New Scooby-Doo Movies. Kids haven't seemed to grow up. Haven't gone to college. Haven't moved on to careers. No Scrappy or Scooby Dum references yet either.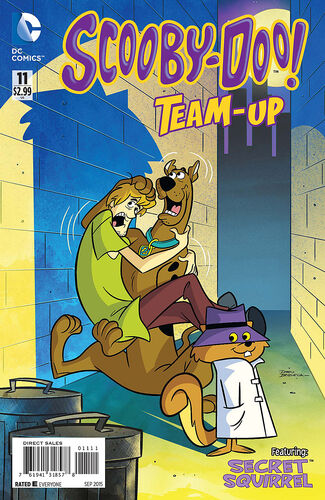 SCOOBY-DOO TEAM-UP # 11--
Secret Squirrel
This is a world where talking animals do coexist with humans, though there seem to be very few talking animals. People are surprised to encounter talking animals, but yet don't find it too implausible.

International Squirrel of Mystery.

Johnny Quest gets mentioned.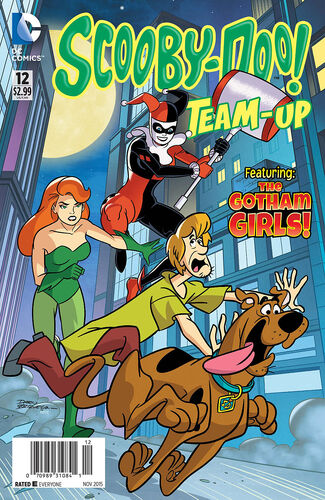 SCOOBY-DOO TEAM-UP # 12--
Gotham Girls
Gotham Girls was a spin-off webseries from Batman: The Animated Series and all the characters are drawn that way.

Mr. J had referenced his previous encounters with Scooby

Batman has several times now called upon Mystery Inc. as experts.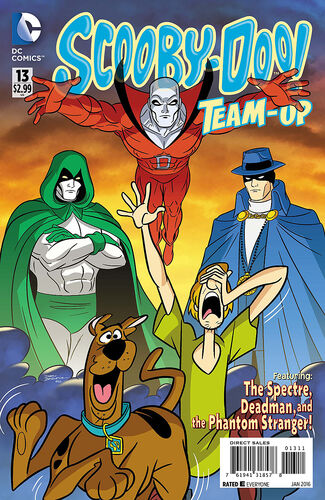 SCOOBY-DOO TEAM-UP # 13--
Halloween
SCOOBY-DOO TEAM-UP # 14--
Aquaman
Silver age and elements from Filmation series

This takes place before Manta killed Aquababy
SCOOBY-DOO TEAM-UP # 15--
Flash
This is silver age Flash, though he's reminiscent of Justice League Flash and DC Super Heroes Flash.

Grodd's Super Friends appearance mentioned

Flash should be on TV mentioned.

Daphne being danger prone damsel in distress mentioned throughout series. This is something that came from the live action films, but clearly Daphne does not possess the martial arts skills from those movies.
SCOOBY-DOO TEAM-UP # 16--
Marvel Family
Pre-Crisis but living in Fawcett City.

This is a merged Earth version of pre-Crisis. No separate Earth-S.

Hoppy the Marvel Bunny mentioned.

Shaggy Marvel and Velma Marvel.
SCOOBY-DOO TEAM-UP # 17--
Hawkman
Appears to be Golden Age version, mention of reincarnations. Could be the post-crisis conflation of Hawkmen.

Atom appears, silver age
SCOOBY-DOO TEAM-UP # 18--
Dogs
SCOOBY-DOO TEAM-UP # 19--
Zatanna
Zatara missing again, but it's after Zatanna joined the League.

More supernatural DC will be introduced.
SCOOBY-DOO TEAM-UP # 20--
Space Ghost
SCOOBY-DOO TEAM-UP # 21--
Harley Quinn - Classic DCAU version
SCOOBY-DOO TEAM-UP # 22--
Frankenstein Jr. and Impossibles
SCOOBY-DOO TEAM-UP # 23--
Quick Draw McGraw
SCOOBY-DOO TEAM-UP # 24--
Martian Manhunter
SCOOBY-DOO TEAM-UP # 25--
Green Lantern/Green Arrow (70s version)
SCOOBY-DOO TEAM-UP # 26--
Hong Kong Fooey
A THOUSAND YEARS IN THE FUTURE
2962 to 2963--The Jetsons--
The misadventures of a futuristic family.