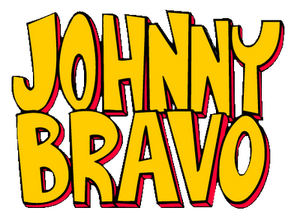 JOHNNY BRAVO! A spiritual sequel to the original Saturday morning Scooby-Doo!
SEASON 4 EPISODE 11 "A PAGE RIGHT OUT OF HISTORY"
Release Date:
August 2004 (Setting is c. 1,000,000 B.C., during the time when Pebbles and Bamm-Bamm are teens)
Animated Series Crosses:
The Flintstones; The Pebbles and Bamm-Bamm Show
The Story:
A million years ago, in Bedrock, an ancestor of Johnny Bravo has his life saved by Fred Flintstone, after which Johnny's ancestor attempts to repay the debt by doing Fred's chores.
Notes:
The prehistoric ancestor is also named Johnny Bravo, and acts just like our Johnny, but it's made clear from the episode this is Johnny's prehistoric ancestor, not a contemporary Johnny in Bedrock.
1912 to Present--Santa has appeared on screen since 1912, in over a thousand films and television shows. Not all are TVCU canon. Of those that are, some are of the "real" Santa and some are just a man in the suit, but it's a TVCU concept that anyone wearing the suit can become possessed by the Christmas Spirit, a magical tulpa like aspect of Jesus. Some of those appearances from the TVCU (or Television Crossover Multiverse) are: BABES IN TOYLAND, ROAD TO UTOPIA, SANTA AND THE FAIRY SNOW QUEEN, I LOVE LUCY, THE JACK BENNY PROGRAM, RUDOLPH, THE RED-NOSED REINDEER, THE FLINTSTONES, THUNDERBIRDS, BATMAN, MISTEROGERS, THE LION, THE WITCH AND THE WARDROBE, FROSTY THE SNOWMAN, BEWITCHED, THE BRADY BUNCH, SANTA AND THE THREE BEARS, ADAM-12, MISTER ROGERS' NEIGHBORHOOD, THE FIRST EASTER RABBIT, RUDOLPH'S SHINY NEW YEAR, MCCLOUD, A FLINTSTONE CHRISTMAS, LOU GRANT, RAGGEDY ANN AND ANDY IN THE GREAT SANTA CLAUS CAPER, ALL IN THE FAMILY, BENJI'S VERY OWN CHRISTMAS STORY, LAVERNE & SHIRLEY, RUDOLPH AND FROSTY'S CHRISTMAS IN JULY, BUGS BUNNY'S LOONEY CHRISTMAS TALES, THE LITTLE RASCALS' CHRISTMAS SPECIAL, A FAMILY CIRCUS CHRISTMAS, CASPER'S FIRST CHRISTMAS, ALICE, YOGI'S FIRST CHRISTMAS, A CHIPMUNK CHRISTMAS, LITTLE HOUSE ON THE PRAIRIE, FAST TIMES AT RIDGEMONT HIGH, DIFF'RENT STROKES, GLORIA, A CHRISTMAS STORY, T.J. HOOKER, TRANCERS, WHO'S THE BOSS?, ST. ELSEWHERE, THE FALL GUY, BABAR AND FATHER CHRISTMAS, THE GOLDEN GIRLS, D.C. FOLLIES, JAKE AND THE FATMAN, THE FACTS OF LIFE, CHEERS, NIGHT COURT, THE CHARMINGS, 3-2-1, HIGHWAY TO HEAVEN, CHRISTMAS AT PEE WEE'S PLAYHOUSE, PUNKY BREWSTER, ERNEST SAVES CHRISTMAS, SCROOGED, A VERY BRADY CHRISTMAS, SANTA BARBERA, THE REAL GHOSTBUSTERS, MACGYVER, HOME ALONE, A DIFFERENT WORLD, RED DWARF, KNOTS LANDING, INSPECTOR GADGET SAVES CHRISTMAS, MARRIED WITH CHILDREN, HOMICIDE: LIFE ON THE STREET, THE NIGHTMARE BEFORE CHRISTMAS, BONKERS, PICKET FENCES, EEK! THE CAT, FAMILY MATTERS, MARTIN, THE NANNY, THE FRESH PRINCE OF BEL-AIR, THE SANTA CLAUSE, LOIS & CLARK: THE NEW ADVENTURES OF SUPERMAN, MURPHY BROWN, BEVERLY HILLS 90210, A.J.'S TIME TRAVELLERS, V.R. TROOPERS, MIGHTY MORPHIN POWER RANGERS, THE TICK, SISTER SISTER, FREAKAZOID!, NEWSRADIO, ELMO SAVES CHRISTMAS, SONIC CHRISTMAS BLAST, CAROLINE IN THE CITY, 3RD ROCK FROM THE SUN, ROSEANNE, THE MUNSTERS' SCARY LITTLE CHRISTMAS, THE DREW CAREY SHOW, EARLY EDITION, MEEGO, STEP BY STEP, OPERATION BUGS BUNNY, RUDOLPH THE RED-NOSED REINDEER: THE MOVIE, SABRINA THE TEENAGE WITCH, THE NEW ADDAMS FAMILY, RECESS, BARNEY'S NIGHT BEFORE CHRISTMAS, FUTURAMA, GRANDMA GOT RUN OVER BY A REINDEER, FRASIER, PROVIDENCE, RUDOLPH THE RED-NOSED REINDEER & THE ISLAND OF MISFIT TOYS, BIG WOLF ON CAMPUS, JOHNNY BRAVO, SPIN CITY, THE HUGHLEYS, THE PARKERS, ROSWELL, THE LOBO PARAMILITARY CHRISTMAS SPECIAL, EASTENDERS, THE SANTA CLAUSE 2, THE HOUND OF THE BASKERVILLES, FRIDAY AFTER NEXT, RUGRATS, JACKIE CHAN ADVENTURES, BECKER, THE HEBREW HAMMER, THE POWERPUFF GIRLS: 'TWAS THE FIGHT BEFORE CHRISTMAS, CAILLOU'S HOLIDAY MOVIE, ELF, STRAWBERRY SHORTCAKE: BERRY MERRY CHRISTMAS, THE ADVENTURES OF JIMMY NEUTRON: BOY GENIUS, FELIX THE CAT SAVES CHRISTMAS, MICKEY'S TWICE UPON A CHRISTMAS, SEED OF CHUCKY, LAX, AMERICAN DRAGON: JAKE LONG, THE GRIM ADVENTURES OF BILLY & MANDY, THAT '70S SHOW, FOSTER'S HOME FOR IMAGINARY FRIENDS, MY LIFE AS A TEENAGE ROBOT, THE SANTA CLAUSE 3: THE ESCAPE CLAUSE, BLACK CHRISTMAS, HOGFATHER, CHRISTMAS IN WONDERLAND, MY FRIENDS TIGGER AND POOH - SUPER SLEUTH CHRISTMAS MOVIE, A DENNIS THE MENACE CHRISTMAS, SHREK THE HALLS, ER, ELMO'S CHRISTMAS COUNTDOWN, SOUTH PARK, A MUPPETS CHRISTMAS: LETTERS TO SANTA, THE FAIRLY ODDPARENTS, BATMAN: THE BRAVE AND THE BOLD, A MISER BROTHERS' CHRISTMAS, HANNAH MONTANA, FAIRY TALE POLICE, MICKEY MOUSE CLUBHOUSE, IT'S ALWAYS SUNNY IN PHILADELPHIA, SANTA BUDDIES, BACK AT THE BARNYARD, DORA THE EXPLORER, PHINEAS AND FERB, PREP & LANDING, THE MIDDLE, CSI: NY, 30 ROCK, PREP & LANDING STOCKING STUFFER: OPERATION SECRET SANTA, THE PENGUINS OF MADAGASCAR, CRAZY DRACULA SPRING BREAK WEEKEND, A VERY HAROLD & KUMAR 3D CHRISTMAS, ICE AGE: A MAMMOTH CHRISTMAS, PREP & LANDING: NAUGHTY VS. NICE, DAN VS., RISE OF THE GUARDIANS, SANTA PAWS 2: THE SANTA PUPS, SPONGEBOB SQUAREPANTS, REGULAR SHOW, THE LOONEY TUNES SHOW, LES MISERABLES, THE SIMPSONS, SCARY MOVIE 5, INTO THE WOOD, CHASING FAIRY TAIL, MISTER SCROOGE TO SEE YOU, THE AMAZING WORLD OF GUMBALL, GLEE, THE NOSTALGIA CRITIC, GRUMPY CAT'S WORST CHRISTMAS EVER, ELF: BUDDY'S MUSICAL CHRISTMAS, TWO AND A HALF MEN, THE LIBRARIANS, DOCTOR WHO, FAMILY GUY, AQUA TEEN HUNGER FORCE, BOB'S BURGERS, POWER RANGERS DINO CHARGE, MARVEL SUPER HERO ADVENTURES: FROST FIGHT!, and CORONATION STREET. (And I'm sure I've forgotten some still.)
1973 to 1983--SPEED BUGGY--Animated 'Saturday-morning' television cartoon about a race car. Speed Buggy has been referenced many times in other shows like Johnny Bravo, Looney Tunes: Back in Action, the Powerpuff Girls, Scooby-Doo: Mystery Incorporated, and Futurama.
CARTOON NETWORK (COMMERCIALS)
Release Date:
October 1, 1992 - ongoing at time of writing
Animated Series Crosses:
The Addams Family (Animated); The Addams Family (1992 Animated Revival); Adventures of Aquaman; Adventures of Gulliver; Adventure Time; Almost Naked Animals; Alvin and the Chipmunks; Amazing Chan and the Chan Clan; Amazing Spiez!; The Amazing World of Gumball; Angelo Rules; Animaniacs; Aqua Teen Hunger Force; Arabian Knights; Astro Boy; Atom Ant; Atomic Betty; Augie Doggie and Doggie Daddy; Baby Looney Tunes; B.A.E.: The Bremen Avenue Experience; Bakugan; Banana Splits; Barney Bear; Batman Beyond; Batman: The Animated Series; Batman: The Brave and the Bold; Battle of the Planets; Beany and Cecil; Beetlejuice (Animated); Ben 10; Beware the Batman; Beyblade; Big Baby; Big Bag; The Big O; Birdman; Blue Dragon; Bob Clampett Show; Bobobo-bo Bo-bobo; Bomberman Jetters; The Brak Show; Breezly and Sneezly; Buford and the Galloping Ghost; Bugs Bunny; Butch Cassidy and the Sundance Kids (Animated); Calling Cat-22!; Camp Lazlo; Capitol Critters; The Captain and the Kids; Captain Caveman; Captain Planet; Cardcaptors; Cartoon Cartoon(s)/What a Cartoon!; Cartoon Planet; Casper and the Angels; Casper's Scare School; Cattanooga Cats; Cave Kids; CB Bears; Centurions; Chaotic; Chop Socky Chooks; Chuck Jones Show; Chuck Norris: Karate Kommandos; Clarence; Clue Club; Code Lyoko; Codename: Kids Next Door; Courage the Cowardly Dog; Cow and Chicken; The Cramp Twins; Cyborg 009; Daffy Duck; Dastardly and Muttley in Their Flying Machines; DC Nation; Dennis the Menace (1986 Animated); Detentionaire; Deviln; Dexter's Laboratory; D.I.C.E.; Dingbat; Dink, the Little Dinosaur; Dino Boy; Don Coyote; Dragon Ball Z; Dragon Hunters; Droopy; Duck Dodgers; Dudley Do-Right; Duel Masters; Dynomutt; Ed, Edd n Eddy; Ed Grimley; Evil Con Carne; Fangface; Fantastic Four (1992 Cartoon); Fantastic Four: World's Greatest Heroes (2006 Cartoon); Fantastic Max; Fantastic Voyages of Sinbad the Sailor (1996 Cartoon); Firehouse Tales; Flintstone Kids; Flintstones; Foster's Home for Imaginary Friends; Frankenstein, Jr. (Hanna-Barbera); Freakazoid!; Funky Phantom; Galaxy Goof-Ups; Galaxy Trio; Galtar and the Golden Lance; Garfield; Gary Coleman Show; Generator Rex; George of the Jungle; George of the Jungle (2007 reboot); Gerald McBoing-Boing; G-Force: Guardians of Space (Reboot of Battle of the Planets); G.I. Joe; GoBots; Godzilla (1990s Cartoon); Goober and the Ghost Chasers; Gordon the Garden Gnome; Gormiti; Grape Ape; Green Lantern: The Animated Series; The Grim Adventures of Billy & Mandy; Grojband; Gumby; Gundam; .hack; Hamtaro; Harlem Globetrotters (Animated); Harry and His Bucket Full of Dinosaurs; Harvey Birdman, Attorney at Law; Heathcliff; Help!... It's the Hair Bear Bunch; He-Man and the Masters of the Universe; Herculoids; Hero: 108; The High Fructose Adventures of Annoying Orange; Hi Hi Puffy AmiYumi; Hillbilly Bears; Hokey Wolf; Hong Kong Phooey; Hot Dog TV; Hot Wheels; How To Train Your Dragon; Huckleberry Hound; I am Weasel; Idaten Jump; Immortal Grand Prix; Impossibles (Hanna-Barbera); Inch High, Private Eye; Jabberjaw; Jackie Chan Adventures; James Bond Jr.; Jetsons; Johnny Bravo; Johnny Test; Jonny Quest; Josie and the Pussycats; Justice League; Knights of the Zodiac; Krypto the Superdog; Kwicky Koala Show; La'Antz and Derek; Laff-A-Lympics; Land Before Time; Late Night Black & White; League of Super Evil; Legends of Chima; Lego Ninjago; The Life and Times of Juniper Lee; Lippy the Lion & Hardy Har Har; Li'l Abner; Little Robots; Long Live the Royals; Looney Tunes; The Looney Tunes Show; Loopy De Loop; MAD; Magilla Gorilla; MAR; Marmaduke; Martian Successor Nadesico; The Marvelous Misadventures of Flapjack; Max Steel; Mega Man; Megas XLR; MetaJets; Midnight Patrol; Mighty Magiswords; Mighty Man and Yukk; Mighty Mightor; Mike, Lu & Og; Mr. Men Show; Mister T; Mixels; Moby Dick (Cartoon); Motormouse and Autocat; The Moxy Show; !Mucha Lucha!; Mumbly; My Gym Partner's a Monkey; Nacho Bear; Naruto; Neon Genesis Evangelion; New Adventures of Huckleberry Finn (1992 Animated); Ninja Robots; O Canada; One Piece; Outlaw Star; Over the Garden Wall; Ozzy & Drix; Pac-Man; Paw Paws; Pecola; Pepe Le Pew; Peppa Pig; Perils of Penelope Pitstop; Pet Alien; Peter Potamus; Pink Panther; Pirates of Dark Water; Pixie and Dixie and Mr. Jinks; Pokemon; Popeye; Porky Pig; Pound Puppies; Powerpuff Girls; Precious Pupp; Prince of Tennis; Princess Natasha; The Problem Solverz; Punkin' Puss & Mushmouse; A Pup Named Scooby-Doo; Quick Draw McGraw; Rad Roach; Rave Master; Real Adventures of Jonny Quest; ReBoot; Redakai; Regular Show; Rescue Heroes; Richie Rich; Ricochet Rabbit & Droop-a-Long; Road Rovers; Road Runner; Robotboy; Robotech; Robotomy; Rocket Jo; Rocky and Bullwinkle; Roger Ramjet; Roman Holidays; Ronin Warriors; Ruff and Reddy Show; Run It Back; Rurouni Kenshin; Sailor Moon; Samurai Jack; Scan2Go; Scaredy Squirrel; Scooby-Doo!; Scooby-Doo! Mystery Incorporated; Screwy Squirrel; Sealab 2020; Secret Mountain Fort Awesome; The Secret Saturdays; Secret Squirrel; Shazzan; Sheep in the Big City; Shirt Tales; Shmoo; Sidekick; Silverhawks; Sitting Ducks; 6teen; Skatebirds; Skunk Fu!; Sky Commanders; Small World; Smurfs; Snagglepuss; Snooper and Blabber; Snorks; Sonic the Hedgehog; Space Ace; Space Ghost; Space Ghost Coast to Coast; Space Kidettes; Space Stars; Speed Buggy; Speed Racer; Spliced; Squiddly Diddly; Squirrel Boy; Star Wars: Clone Wars; Static Shock; Steven Universe; Stoked!; Storm Hawks; Sunday Pants; Super Chicken; Super Friends; Super Hero Squad Show; Superman: The Animated Series; Supernoobs; The Swashbuckling Perils of the Adventures of the Men & Jeremy; SWAT Kats; Sym-Bionic Titan; The Talented Mr. Bixby; Taz-Mania; Team Galaxy; Teddy Blue Eyes; Teenage Mutant Ninja Turtles (2003); Teen Titans; Teen Titans Go!; Tenchi; Tenkai Knights; Tennessee Tuxedo; Tex Avery Show; The Batman; These Are the Days; Thundarr the Barbarian; ThunderCats; ThunderCats (2011); Time Squad; Tiny Toon Adventures; Tom and Jerry; Tom and Jerry Kids; Toonami; ToonHeads; Top Cat; Total Drama; Totally Spies!; Touche Turtle and Dum Dum; Track Rats; Transformers: Armada; Transformers: Beast Wars; Transformers: Cybertron; Transformers: Energon; Transformers: Robots in Disguise; Tweety and Sylvester; 2 Stupid Dogs; Uncle Grandpa; Underdog; Valley of the Dinosaurs; Voltron; Wacky Races; Wait Till Your Father Gets Home; Wally Gator; Waynehead; We Bare Bears; Wedgies; What a Cartoon!; Whatever Happened To… Robot Jones?; Wheelie and the Chopper Bunch; Where's Huddles?; Wildfire; Winsome Witch; Winx Club; Woody Woodpecker; Wulin Warriors; Xiaolin Showdown; X-Men: Evolution; Yakky Doodle; Yippee, Yappee and Yahooey; Yogi Bear; Yoko! Jakamoko! Toto!; Young Justice; Young Robin Hood; Young Samson; Yu-Gi-Oh!; YuYu Hakusho; Zatch Bell!; Zixx; Zoids
Other Crosses:
Bobb'e Says; BrainRush; Destroy Build Destroy; Dude, What Would Happen; Goosebumps; Hole in the Wall; Incredible Crew; Level Up; My Dad's a Pro; The Othersiders; Out of Jimmy's Head; Re: Evolution of Sports; Run It Back; Slamball; Survive This; 10 Count; Thumb Wrestling Federation; Tower Prep; Unnatural History
The Story:
Several short stories featuring numerous Cartoon Network characters, original and acquired, in various shared reality segments.
Notes:
Since its inception, Cartoon Network has run numerous promos that featured it's original characters and acquired properties in original short segments that demonstrate that everything seen on Cartoon Network, original or reruns from other networks, takes place in the same shared reality. Most of the segments take place at the Cartoon Network studios, or the town the studio is set in, which seems to be Townsville from the Powerpuff Girls. I conjecture that Townsville is nearby Los Angeles and Toontown. However, there is evidence elsewhere, in Phineas and Ferb, that Townsville is part of the same Tri-State Area as Dansville from Phineas and Ferb. There are several areas in the United States that are known as the Tri-State area, and California is not in any known "tri-state area". Note that some of the series above are not part of the main Cartoon Universe. Also, some of these series exist in the past for future. Clearly Cartoon Network has access to travel between time and alternate realities.
March 1995--THE CARTOON CARTOON SHOW--"Johnny Bravo"--Introducing a legend in his own mind.
Johnny tries to impress a zookeeper by bringing back an escaped gorilla for her.
January 1997--THE CARTOON CARTOON SHOW--"The Amazon Women"--Pilot for Johnny Bravo.
Johnny Bravo goes an a whale watching trip to meet girls, but when he falls overboard, he washes up on an island of beautiful Amazon women, who don't take too kindly to him.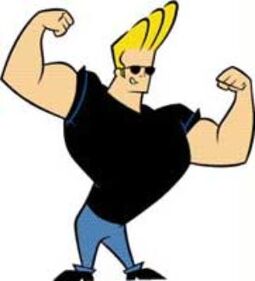 JOHNNY BRAVO (ANIMATED SERIES)
Release Date:
July 7, 1997 - August 27, 2004
The Story:
Johnny Bravo is a handsome man who is really full of himself. His cocky, narcissistic, and not too intelligent behavior makes him think he's God's gift to women, but women tend not to agree with this. Johnny often finds himself in bizarre and humorous adventures.
Notes:
Johnny Bravo was the second of Cartoon Network's original Cartoon Cartoons.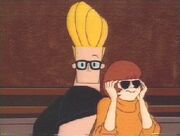 SEASON 1 EPISODE 3 "BRAVO-DOOBY-DOO"
Release Date:
July 21, 1997
Animated Series Crosses:
Scooby-Doo!; Speed Buggy
The Story:
When Johnny's aunt vanishes, he enlists Mystery Inc for assistance.
SEASON 1 EPISODE 5 "'TWAS THE NIGHT"
Release Date:
August 4, 1997 (Setting is Christmas Eve)
Animated Series Crosses:
Rudolph the Red-Nosed Reindeer; How the Grinch Stole Christmas; Wacky Races; Quick Draw McGraw; The Ruff and Reddy Show; Yogi Bear; Jetsons; Scooby-Doo!
Other Crosses:
H.R. Pufnstuf; Brady Bunch
The Story:
Johnny thinks Santa is a thief, and injures him trying to stop him. He then has to take Santa's place to deliver the presents around the world.
Notes:
Johnny wonders why Rudolph isn't part of the sleigh team. The scene then shifts to show Rudolph is at the North Pole fighting the evil forces of the Grinch. Johnny reviews the list of those who are to receive coal, which are all politicians. Some of the names on the list are famed cartoon characters while others are cartoon creators. Others still are unknown to me. The full list is: President (the only one to receive a gift rather than coal), Sen. L'annon, Sen. Aberg, obscured name of senator whose name ends with "dn", Sen. Sntstgne, Sen. Dascardley, Sen. Muttdy, Sen. McGraw, Sen. Ruff, Sen. Ready, Sen. Freedman, Sen. Davis, Sen. Bell, Sen. Cowsil, Sen. Ceasar, Sen. Johnson, Sen. Deserano, Sen. To, Sen. Granger, Sen. Hanna, Sen. Barbera, Sen. Warner, Sen. Yogi, Sen. Booboo, Sen. Jetson, Sen Oakey, Sen. Ricthey, Sen. Jan, Sen. Tomtishen, Sen. Pamela, Sen. Blip (it's obscured whether he gets a gift or coal), Mayor of Aron City (gets a gift), and Sen. Puffnstuff (gets a gift). Johnny brings a gift to Scooby-Doo. Scooby was hoping for Scooby snacks but instead receives a coupon for free speech therapy lessons from Cindy Brady.
December 1999--JOHNNY BRAVO--"Johnny's Guardian Angel"--
The segment "Johnny's Guardian Angel" is a spoof of IT'S A WONDERFUL LIFE.
2000--JBVO--
Johnny Bravo hosts "your all-request cartoon show".
2000--CARTOON CARTOON FRIDAYS--
Every Friday night, your favorite Cartoon Cartoon stars get together to present four hours of Cartoon Network's newest Cartoon Cartoons. With a different cartoon host every week, you never quite know what's going to happen.
March 2001--JOHNNY BRAVO--"Freudian Dip"--Featuring a minor reference to Peanuts. Characters appear that unofficially are meant to be the Peanuts gang.
December 2001--JOHNNY BRAVO--"A Johnny Bravo Christmas"--Santa appears.
THE 1ST 13TH ANNUAL FANCY ANVIL AWARD SHOW PROGRAM SPECIAL… LIVE… IN STEREO (ANIMATED/LIVE ACTION SPECIAL)
Animated Series Crosses:
Johnny Bravo; Cow and Chicken; Jetsons; Scooby-Doo!; Powerpuff Girls
The Story:
An awards show for toons.
Notes:
This show was hosted by Johnny Bravo and featured many celebrity guests, including some cartoon characters. More cartoons were featured than those listed above, but most were archived footage, which doesn't imply a shared reality connection.
February 2004--JOHNNY BRAVO--"Johnny Goes Hollywood"--Jabberjaw makes a cameo.
July 2004--JOHNNY BRAVO--"T is for Trouble"--Mr. T is pulled again into the Looniverse, where he meets Johnny Bravo. I feel that some of these trips are astral, meaning that the soul leaves the body while they are sleeping and travels to the Looniverse. That would explain how people seem to visit the Looniverse without going into shock, and how they return as if nothing had happened. To them it was just a dream.
August 2004--JOHNNY BRAVO--"Johnny Makeover"--Blue Falcon appears.
August 2004--JOHNNY BRAVO--"Back on Shaq"--Huckleberry Hound appears.
2006--CARTOON NETWORK RACING--'nuff said.
January 2009--FUSIONFALL--Characters from Johnny Bravo appear.
June 2009--JOHNNY BRAVO IN THE HUKKA MEGA MIGHTY ULTRA EXTREME DATE-O-RAMA!--Video game.
Characters from
Johnny Bravo
are also featured in the Cartoon Network games
Cartoon Network: Block Party
,
Cartoon Network Racing
,
Cartoon Network Speedway
, and
Cartoon Network Universe: FusionFall
.
2011--JOHNNY BRAVO GOES TO BOLLYWOOD--A TV Movie.
2011--CARTOON NETWORK: PUNCH TIME EXPLOSION--
All of your favorite Cartoon Network characters band together to defeat an unknown evil destroying their worlds.
CARTOON NETWORK 20TH ANNIVERSARY--This special features appearances by DAFFY DUCK, BATMAN (from Earth-23/BATMAN: THE BRAVE AND THE BOLD), JOHNNY BRAVO, BUGS BUNNY, characters from THE MARVELOUS MISADVENTURES OF FLAPJACK, THE GRIM ADVENTURES OF BILLY AND MANDY, FOSTER'S HOME FOR IMAGINARY FRIENDS, COURAGE THE COWARDLY DOG, REGULAR SHOW, ED EDD 'N' EDDY, CHOWDER, SAMURAI JACK, DEXTER'S LABORATORY, ADVENTURE TIME, and SCOOBY-DOO!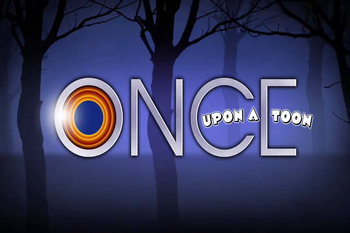 October 2012--MAD--"Once Upon a Toon"--Normally I'd place Mad sketches in a separate Mad Universe, but this is a Cartoon Network show doing a sketch about older Cartoon Network cartoons in the classic animation style. This is a parody of Once Upon a Time, but instead, former Cartoon Network characters have forgotten who they were because of a curse placed upon them by Dee Dee from Dexter's Laboratory. In the end it was all a dream, or was it? The characters featured are:
February 2013--JOHNNY BRAVO (IDW PUBLISHING)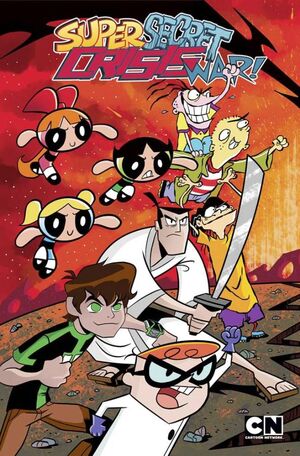 Summer 2014--CARTOON NETWORK: SUPER SECRET CRISIS WAR"--
Samurai Jack, Ben Tennyson, Dexter and the Powerpuff Girls must team up with the help of the Eds to prevent the League of Extraordinary Villains (Aku, Vilgax, Mandark and Mojo Jojo) from taking over the world in the comic mini-series "Cartoon Network: Super Secret Crisis War", and the missing robots are teleported into the five worlds of
Johnny Bravo
,
The Grim Adventures of Billy & Mandy
,
Foster's Home for Imaginary Friends
,
Cow and Chicken
, and
Codename: Kids Next Door
. This is yet another example of cartoons being on different worlds despite also being on the same world. I've come across a lot of these examples lately. This is why the Cartoon Crossover Encyclopedia will be demonstrating a Cartoon MULTIVERSE rather than a Cartoon Universe.
April 2016--UNCLE GRANDPA--Johnny Bravo is in the audience when Uncle Grandpa hosts the Grampies.
ALTERNATE REALITIES:
LIVE ACTION UNIVERSE--A live action film was planned and then scrapped in 2002 featuring the Rock as Johnny Bravo. I probably would have placed this in the same reality as the live action Scooby-Doo films.