So when Grant Morrison laid out his New 52 Multiverse, I thought it would be fun to match up the Television Crossover Multiverse with his multiverse as much as I can.
For example, the world he placed his Freedom Fighters was Earth-10, so TVCU-10 became the Naziverse.
So Earth-42 had "Chibi" versions of DC characters. For those unfamiliar, that meant sort of "baby-fied versions of the DC Heroes".
In Japan, the use of
chibi
versions of established characters to work out themes of self-parody has become a staple of manga and anime. It is generally the norm (where such parodies are used) to end a chapter with a page or two of chibi characters parodying the chapter's main themes. Usage of chibi in this manner often constitutes a form of catharsis for the readers and the writer, similar to the practice of having the actors in a play appear on stage to take a bow at the end of a performance, including characters who were killed off in the body of the play.
Chibi are often portrayed as leading separate, parallel lives to the characters they parody, occasionally going so far as to be portrayed as a variant species occupying the same fictional world.
So I thought that the perfect match for that in the world of TV and film would be the string of animated series that took popular characters and reintroduced them as younger characters.
So this would be a proposed timeline of TVCU-42. Note that so far, in the six years I've done this, I believe this is only the third post to try to cover an entire universe, the first being the Whoniverse post and the second being a Earth-Prime quickie.
THE FLINTSTONE KIDS (ANIMATED SERIES)
Release Date:
September 6, 1986 - September 3, 1988 (Setting is circa 10,000 B.C.)
Series:
The Flintstone Kids
Animated Series Crosses:
The Flintstones; Captain Caveman
The Story:
The misadventures of Fred, Barney, Wilma and Betty as children.
Notes:
In various origin stories told in remakes and adaptations, the boys met the girls in different ways at different times. However, in the first season of the Flintstones, it's stated that Fred dated Wilma in high school. If that's true, then there is nothing to prevent placing the Flintstone Kids in the same timeline as The Flintstones. But a later animated story on the Flintstones had the couples meeting as young adults, after high school. I would consider that the Flintstone Kids may be part of a divergent timeline. This series also shows Captain Caveman as a hero of Bedrock at the time of the kids' adventures. In this series, Captain Caveman has an intelligent, articulate son. In the Flintstone Comedy Show, a 1980s continuation of the Flintstones, Captain Caveman still operates in Bedrock, with a Clark Kent like secret identity, working in an office with an adult Wilma and Betty, chronologically taking place during the era when Pebbles and Bamm Bamm are teenagers.
19th Century--YOUNG SHERLOCK HOLMES--
Young Sherlock Holmes
has Holmes and Watson meeting each other and fighting with Professor James Moriarty as teenagers. Note that the Coffin Clock from ROCKY HORROR PICTURE SHOW is seen in a curio shop during the stabbing scene.
19th Century--THE MAMMOTH BOOK OF THE BEST OF BRITISH CRIME 11--"Secret of the Dead"--A young Sherlock Holmes meets elderly ex-Sergeant Cuff.
1932 to 1949--TOPOLINO--A
n Italian Disney comic features a version of
Donald Duck
(also known as PP8) as an 8-year old child, with his best friends Barney, Billy, Millicent and Betty Lou.
Some characters like
Daisy Duck
and Gladstone Gander in the Topolino comics as childrens.
Disney
has baby versions of their characters
Mickey Mouse
,
Minnie Mouse
,
Donald Duck
,
Daisy Duck
,
Goofy
,
Pluto
,
Clarabelle Cow
,
Pete
,
Winnie the Pooh
,
Tigger
,
Piglet
,
Eeyore
,
Snow White
,
Cinderella
,
Aurora
,
Ariel
,
Belle
,
Princess Jasmine
,
Mulan
,
Pocahontas
,
Tiana
,
Rapunzel
,
Stitch
,
Dumbo
,
Bambi
,
Thumper
,
Lady and the Tramp
,
Patch
,
Marie
,
Simba
and
Nala
in their franchise, Disney Babies.
1934--LITTLE ARCHIE--All of the stories of Archie's younger years are compressed to occur at this time. THE ARCHIES band would be formed at this time, but would really reach popularity in the 1960s and 1970s. The band has recently had a come-back.
1950s--MUPPET BABIES--"Back to the Nursery"--When Nanny was young, Doc Brown's DeLorean is in her driveway in a picture that is seen in her photo album in the 1980s.
1960--SANRIO--
Sanrio
has baby versions of their characters
Hello Kitty
, Mimmy, Dear Daniel,
My Melody
, Cinnamoroll, Tenorikuma and Kuromi. The Hello Kitty Babies design series was a request from young mothers who had been loyal fans of Hello Kitty since her debut.
The Adventures of Superboy (1961)--CLARK KENT USING HIS POWERS IN SMALLVILLE. NOTES: THIS SERIES WAS MEANT TO BE A PREQUEL TO THE ADVENTURES OF SUPERMAN, DESPITE THE FACT THAT THERE WAS NO MENTION OF A SUPERBOY ERA DURING THE ORIGINAL SHOW.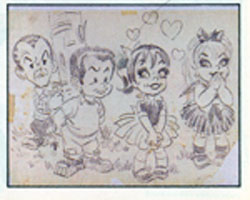 1966 to 1994--PETEY: THE ADVENTURES OF PETER PARKER LONG BEFORE HE BECAME SPIDER-MAN--A
Fred Hembeck
backup feature in
Marvel Tales
featuring humorous stories of
Peter Parker
,
Flash Thompson
, and
Betty Brant
as children, with
Aunt May
and
Uncle Ben
. A typical example featured Petey sent by Aunt May to the pharmacy to buy Uncle Ben's medicine and told he can keep the change. Not realizing the cost of medicine, he buys sodas for Flash and Betty, only to discover the change from the medicine is a quarter.
1970 to Present--MONICA BABY--
Monica Baby, a baby version of main characters of
Monica's Gang
franchise
Monica
,
Jimmy Five
,
Smudge
,
Maggy
,
Blu
, Angel,
Chuck Billy
and Rosie Lee. This served both as a secondary franchise as the representation of the characters in some flashbacks and time travels in the comics.
1979 to Present--BABY STRAWBERRY SHORTCAKE--A
baby version of the
American Greetings
character,
Strawberry Shortcake
.
THE MUPPETS TAKE MANHATTAN (LIVE ACTION MUPPET FILM)
Release Date:
July 13, 1984 (See notes for setting)
Animated Series Crosses:
Muppet Babies
Other Crosses:
Sesame Street; Fraggle Rock
The Story:
The muppets have a very successful play in college. Upon graduation, they move to New York to try to get the play on Broadway.
Notes:
This film presents a different origin for the muppets than what was presented in the Muppet Movie. Kermit has said in one interview that the circumstances of how he met Miss Piggy changes depending on what movie you watch, implying that any of them could be the true origin, as if the timeline keeps shifting. That would imply that this film may take place in the Live Action Universe, in the past, prior to the start of the Muppet Show, and probably even before the start of the first appearances of Kermit and Rowlf on various talk and variety shows. In the closing, characters from Sesame Street appear. Kermit himself was a regular on Sesame Street. Also appearing is Uncle Travelling Matt, from Fraggle Rock, which makes sense. On Fraggle Rock, Uncle Matt is older than the other Fraggles and the only Fraggle who has ever left Fraggle Rock to explore the world of humans. One complication here is that this film also introduces the Muppet Babies, in a live action fantasy sequence. This little cameo would spin-off into an animated series. This wouldn't seem so complicated, since it places the live action Muppets on Muppet Babies as not being in the same canon. However, later, in A Muppet Family Christmas, the Muppet Babies are shown to actually be the past of the Muppets in a flashback.
MUPPET BABIES (ANIMATED SERIES)
Release Date:
September 15, 1984 - November 2, 1991
The Story:
Before they were big time celebrities, the muppets were once all babies living together under the watchful eye of a nanny, and having great fun with their wild imaginations.
Notes:
Muppet Babies exists in TVCU-42 and has a contemporary setting. The Cartoon Universe has adult versions of the muppets. Alternatively, the Live Action Universe is the setting of the live action Muppets, who have many divergent timeline origins, one of which shows the muppets all living together as muppet babies.
December 27, 1986--MUPPET BABIES--"Back to the Nursery"--The babies pretend to take Doc Brown's DeLorean back in time. So that doesn't count as a crossover. However, later, in the "real" part of the show, the DeLorean is seen in Nanny's old photo album in a picture in her driveway!
MUPPET BABIES (ANIMATED SERIES)
SEASON 4 EPISODE 6 "THIS LITTLE PIGGY WENT TO HOLLYWOOD"
Release Date:
October 24, 1987
Other Crosses:
Sesame Street
The Story:
Piggy imagines being a Hollywood star.
Notes:
Among celebrities seen on TV are Bert and Ernie.
A MUPPET FAMILY CHRISTMAS (LIVE ACTION MUPPET SPECIAL)
Release Date:
December 16, 1987
Animated Series Crosses:
Muppet Babies
Other Crosses:
Sesame Street; Fraggle Rock
The Story:
Christmas with Fozzie's mom.
Notes:
Characters from Sesame Street and Fraggle Rock appear. This special also confirms Muppet Babies as being canon for the muppets, despite previous contradictory stories. However, as I've mentioned earlier, I believe that the animated and live action Muppet Babies exist in separate realities in different time periods.
1988 to 1991--A Pup Named Scooby-Doo--
A pre-teen version of Scooby Doo, with a pint-sized version of the title character.
November 17, 1988--A PUP NAMED SCOOBY-DOO--Yogi Bear appears in an episode.
December 2, 1989--MUPPET BABIES--"It's Only Pretendo"--Pretendo is a video game system in this universe. It appears again in Web Monkeys where the Pretendo Corporation is the main characters' rival company.
1990 to 1993--TOM & JERRY KIDS--
The Tom and Jerry Kids cartoons are based on the classic shorts,
Tom and Jerry
. It stars the kitten and mouseling. They remain silent like their adult selves, and both of them are attempting to outwit each other, exactly like in the original shorts. Some of the plots are recycled from old Tom and Jerry cartoons, but the violence is toned down for younger viewers. In season 4, Blast Off Buzzard and Crazylegs from CB BEARS appear, and actually talk, which they don't do in their own series.
1991--YO YOGI!--F
eaturing
Yogi Bear
,
Boo Boo
,
Cindy Bear
,
Huckleberry Hound
and
Snagglepuss
as teenagers solving mysteries and detective works. Incidentally, Boo-Boo was left unaffected despite him being a cub in the usual Yogi Bear series. The voices of the characters were also left unchanged.
1994 to 1997--AAAHH!!! REAL MONSTERS--
An episode of
Aaahh!!! Real Monsters
titled 'Rookie Monsters' featured Ickis, Oblina and Krumm when they were young.
1994 to 2008--SENNINHA--
Based on real racing driver
Ayrton Senna
as a child. It was created with the purpose of promoting the success of the driver in campaigns, including getting to have comic books and cartoons, but even after the death of Senna, the character marked legacy among fans and continued to be developed for several more years. A baby version of the characters from the comic also was promoted for marketing.
Apr 15/95
--MALLRATS--
A mall Easter Bunny appears in MALLRATS.
Walt Flanagan
plays
Walt the Fanboy in
Mallrats, Chasing Amy, Dogma, Clerks: The Animated Series, and Jay and Silent Bob Strike Back.
Bryan Johnson
plays
Steve-Dave in all the View Askew films but Clerks and Clerks II. Brian O'Halloran plays Gil Hicks, cousin of Dante Hicks.
Jason Lee
plays
Brodie Bruce
in Mallrats and Jay and Silent Bob Strike Back.
Renee Humphrey
plays
Tricia Jones in Mallrats and Jay and Silent Bob Strike Back.
Malcolm Ingram
plays "
Creepy staring guy" in Mallrats and Jay and Silent Bob Strike Back.
This is a prequel to Clerks. Stan Lee plays himself. Stan Lee has also played a fictional version of himself in the TVCU in
"The Big Bang Theory"
,
"Entourage"
"Chuck"
,
"The Simpsons"
,
Family Guy: The Quest for Stuff
, and
"Muppet Babies"
. He also has many counterparts throughout the multiverse. Click here for more.
Rene wears a Degrassi Junior High jacket.
At the end of the credits, it says that Jay and Silent Bob will appear in Chasing Amy.
Mention of "Pendant Publishing." Gov. Dalton appears in Mallrats and Dogma, though played by different actresses in each. This movie claims at the end that Jay and Silent Bob have a future story with an orangatane named Susane. This story is told in the comic book, Chasing Dogma, and then again, differently, in Jay and Silent Bob Strike Back. For the TVCU, I'm accepting the film as canon, and the comic in the alternate Comic Book View Askewniverse divergent timeline.
-"Truth or Date" held in Eden Prarie Mall
-T.S. Quint & Brandi Svenning engaged
-Jay & Silent Bob beat up Easter Bunny
1995 to 1998--GADGET BOY--
The popular
Inspector Gadget
is depicted as a child.
April 1996--BABY LOONEY TUNES: EGGS-TRAORDINARY ADVENTURE--Bugs, Daffy, Tweety, Sylvester, Taz, and Lola are all orphans being raised by Granny. In this tale, the search for the true meaning of Easter.
1996--BABY LOONEY TUNES--
Bugs, Daffy, Tweety, Sylvester, Taz, Petunia Pig, Melissa Duck, and Lola are all orphans being raised by Granny.
This series actually debuted in 2001, but I'm trying to fit it in the same timeline as the Looney Tunes Show. In that show, 2011 teen Bugs claims he's known Daffy for 17 years, which would mean since 1996.
1996 to 1998--JUNGLE CUBS--
Based on Disney's 1967 animated film
The Jungle Book
, but set in the youth of the animal characters from the movie, such as
Baloo
,
Bagheera
,
King Louie
, and
Shere Khan
.
1998 to 2013--OGGY AND THE COCKROACHES--
Three episodes of
Oggy and the Cockroaches
titled 'Back to the Past!', 'The Time Machine' and 'Perpetual Motion' featured Dee Dee, Marky, Joey, Oggy, Jack and Bob as toddlers.
1999 to 2000--SABRINA: THE ANIMATED SERIES--
Sabrina Spellman as a 12 years old attending Middle School.
2000 TO 2001--BABY FELIX--
Baby Felix
is a Japanese children's
animated
television program
that follows the adventures of a young
Felix the Cat
and infant versions of the characters from
Joe Oriolo
's Felix television program from the 1950s. It was launched by Oriolo's son, Don Oriolo in 2000 with
NHK Educational
,
NEC Interchannel
and
AEON inc.
of
Japan
. The show consists of 26 half-hour episodes. It follows in the long line of "Baby Cartoon Revivals" alongside such shows as
Muppet Babies
,
Baby Looney Tunes
,
Tom & Jerry Kids
, and
The Flintstone Kids
. All 26 episodes were released in Bulgaria on 9 DVDs by A-Design. In 2010, DVDs have been released in Hungary as well.
2001--LITTLE ENDLESS--
Child versions of the
Endless
from
Neil Gaiman
's
Sandman
comics, originally appearing in the story "A Parliament of Rooks]", illustrated by
Jill Thompson
, and subsequently in Thompson's graphic novel
The Little Endless Storybook
February 2002--FAMILY GUY--"Family Guy Viewer Mail 1"--
Five-year-old Peter,
Brian
,
Quagmire
,
Joe
(who is pulled around in a wagon),
Cleveland
, and
Mayor West
belong to the "We Hate Broads Club". When young Lois Pewterschmidt joins their school, however, Peter and Quagmire are love-stricken. Attempting to impress Lois, both boys promise to spend the night in a spooky abandoned house to prove their courage. When they see an apparently real ghost, however, they all flee in terror. Lois ends up choosing
Mort Goldman
as her new boyfriend, seeing as how Mort staged the whole thing to make it appear the house was haunted, and Peter and Quagmire swear off girls forever in disgust. Thirty-five years later and thanks to avoiding the distraction of women, Peter and Quagmire have become incredibly wealthy, and substitute relations with women by having sex with
bagels
. This segment is a parody of
The Little Rascals
.
2003--LITTLE ALVIN AND THE MINI-MUNKS--F
eatured the adventures of
Alvin and the Chipmunks
and
The Chipettes
as infants at a nursery.
2004--BRATZ BABYZ--
Bratz Babyz
are the babies of the teenager girl dolls.
2005--PELEZINHO--
Based on real footballer
Pelé
as a child. The comics were developed between a partnership between Pelé and Maurício de Sousa, who subsequently also developed children's versions of other great Latin footballers:
Diego Maradona
(Dieguito),
Ronaldo
,
Ronaldinho
and
Neymar
for comics.
2005--XUXINHA--
Xuxinha, a child version of the real television presenter
Xuxa
. She appeared in some marketing and animations during the 2000s. The character was the protagonist of the 2005 animated film: "Xuxinha e Guto contra os Monstros do Espaço".
2005 to 2006--KRYPTO THE SUPERDOG--
Krypto the Superdog
episodes feature Krypto and the Dog Stars as young puppies in the episode 'Puppy Problems'
2005 to 2006--WONDER SHOWZEN--
Wonder Showzen
(
Augenblick Studios
) did an extreme parody of the concept, mostly of Muppet Babies featuring all the major Wonder Showzen puppets, even a disturbing parody of Nanny.
2005 to 2009--SPY VS. SPY JR.--A
running comic strip in the juvenile-themed
Mad Kids Magazine
(a spin-off of
Mad Magazine
). Unlike the more familiar version, the junior Spy characters do not attempt to murder one another. Instead, they engage in tit-for-tat pranks and plots (in one episode, a Spy ends up soaked by his own garden hose; in another, a Spy gets splattered by bad-smelling "skunk juice").
2005 to 2014--JOHNNY TEST--
Two episodes of
Johnny Test
titled 'Johnny's New Baby Sisters' and 'Johnny vs. Bling-Bling' feature Johnny, Dukey, Susan, Mary and Bling-Bling Boy as babies.
DRAWN TOGETHER (ANIMATED SERIES)
SEASON 2 EPISODE 3 "LITTLE ORPHAN HERO"
Release Date:
November 2, 2005
Animated Series Crosses:
Muppet Babies
The Story:
Captain Hero finds out that his planet wasn't really destroyed, but that his parents sent him to Earth because they didn't want him. Meanwhile, the other housemates run a suicide hotline.
Notes:
The Muppet Babies appear, confirming that although the Muppets exist in the Live Action Universe, the Muppet Babies exist in the Cartoon Universe, as well as in TVCU-42. The Muppet Babies have been shown to be babies in the 1980s, so this makes sense that they are not the same as the full-grown muppets whose origins trace back to a decade or so earlier. Of course, there is still the complication that on shows like Family Guy, Cartoon Universe versions of the adult muppets have also appeared. It's my belief based on the evidence presented that perhaps the Cartoon Universe adult muppets and Muppet Babies are indeed separate characters, with amazingly coincidental similarities. In a flashback, Captain Hero is shown making fun of the death of Batman's parents in front of Batman and Robin.
2007 to 2008--LI'L BUSH--
Comedy Central
's
Lil' Bush
is a spoof of the concept, with members of the
George W. Bush Administration
portrayed as children.
DRAWN TOGETHER (ANIMATED SERIES)
SEASON 3 EPISODE 11 "DRAWN TOGETHER BABIES"
Release Date:
October 25, 2007 (Setting is still contemporary… The Drawn Together cast as babies)
The Story:
The Drawn Together cast all lived together, being raised by the same parents, as babies. The origins behind their personalities are revealed.
Notes:
This is a parody of Muppet Babies, and the overall trend that followed of younger versions of cartoon characters. This episode contradicts the rest of the series and has never been referenced in any other episode, so may not be canon. But considering the plot of the Drawn Together Movie, these may have been animated clones. This episode should take place when the cast members are children, but there is no indication that it doesn't still take place in a contemporary setting, except perhaps that Flipper appears. Flipper was the dolphin star of a television series of the same name that ran in the 1960s, and a version of that series must have also existed in TVCU-42, or whatever reality this episode take place in.
2010--PINK PANTHER AND PALS--F
eaturing
The Pink Panther
as a teenager, along with
Big Nose
, Horse, and
The Ant and the Aardvark
. It also featured the child versions of them.
October 2010--LITTLE ARCHIE/TINY TITANS--The downtown of Riverdale merges with the downtown of Sidekick City. According to this story, the universe of Little Archie (which has canon that contradicts the main Archie Universe) is in a separate universe from Tiny Titans (which is a child version of the Teen Titans which is a fictional comic and cartoon within the DC Universe.)
2011 to 2013--THE LOONEY TUNES SHOW--A lot of things in this show contradict most Looney Tunes canon. In this series, most of the Looney Tunes characters are still teens and Bugs and Daffy have only known each other for 17 years according to Bugs on the show. Which means they would have met in 1994.
April 2012--A VS. X--So while X-Babies isn't part of TVCU-42 because they were created by Mojo in the Earth-616 Marvel Universe, there is a Marvel Babies that does apparently exist elsewhere in the multiverse, and in that reality, Captain America's mom is the nanny from Muppet Babies. So there you go.
October 2014--UNCLE GRANDPA--"Grounded"--
The concept was parodied in the following short segment of an episode of
Uncle Grandpa
called "Grounded". The show's main characters were depicted as toddlers, with Pizza Steve shown as a wad of pizza dough. Throughout the short segment, Baby Uncle Grandpa would pause in between explaining the mission, which was to deliver a million "space-bucks" to the president before nap-time at the risk of the President getting disintegrated, to the other babies by declaring "Pooping my pants!". Later on, a full episode revolving around the over-all concept of the short, titled "Uncle Grandpa Babies", was released.
2016--CAMP WWE--
Camp WWE
features younger versions of
WWE Superstars
at a
summer camp
. The age range isn't accurate with their real age, as it features
Stephanie McMahon
and
Triple H
as teenaged camp counselors around the same age (In real life, Triple H and McMahon are seven years apart in age.), while showcasing the likes of
John Cena
,
The Undertaker
,
Stone Cold Steve Austin
, and
Roman Reigns
around the same age, about 8 years old. (In real life, The Undertaker and Austin are both older than Triple H, despite their characters portraying as being younger than Triple H in the series.) "Adult" characters like
Vince McMahon
,
Ric Flair
, and
Sgt. Slaughter
are portrayed as full-grown adults.
Other Related Realities--
Earth-One
--Pre-
Crisis
--DC's
Silver Age
heroes, including the original
Justice League of America
: Police scientist Barry Allen as
the Flash
; test pilot
Hal Jordan
as
Green Lantern
; Thanagarian Katar Hol as
Hawkman
; scientist Ray Palmer as
the Atom
; and Clark Kent (Kal-El), who as a teenager became
Superboy
before his career as
Superman
. The default Earth for most of DC's comics during the time the original Multiverse construct was in use, Earth-One was by far the most populated and widely explored, and it retained dominance over the other four worlds which merged with it during the Crisis on Infinite Earths storyline. The DC Universe's "official" continuity post-Crisis took place on a merged Earth-One, as the Crisis revealed that this universe had been the core reality until the rogue Guardian Krona fractured reality at the dawn of creation, creating both the Multiverse and the Antimatter Universe. First described as a distinct Earth in Flash (vol. 1) #123 (September 1961), first named in Justice League of America (vol. 1) #21 (August 1963). First appeared in More Fun Comics #101 (January 1945).
Earth-2A--
Pre-
Crisis--Earth-2A
is the unofficial name of the universe that the
Justice Society of America
live in. The universe is very similar to the universe known as
Earth-Two
. In fact, the natives of that earth refer to it as Earth-Two.
There was a period between the ending of the Golden Age and the Silver Age where distinct stories were published that were neither part of
Earth-One
or
Earth-Two
, the majority of these adventures can be reasoned to have happened on
Earth-E
. However Earth-E is in many forms a proto-Earth-One and so the initial changes that occurred there are represented here. There is no Superboy in Earth-Two but a Superboy could well have existed on this Earth. First Appearance:
Superman
Earth 988--Numerical designation by John Wells from Superboy V2#1, other info from Superboy V2# 5, 15, 16. First Appearance:
Superboy
. A world whose only super-hero was a college-age Superboy. Also in the future year 2240, Superboy encounters rowdy metahuman teens named Shift, Wildstar, Tara, Romo, Glyder, Tarot, Diamond, and Screamdreamer (the first three of which had visited him in his own era.
Post-Crisis Earth--Post-Crisis--All residents of the reconstituted Earth formed following Crisis on Infinite Earths--This universe has various derivations explained as manifestations of
Hypertime
and influenced by the actions of
Superboy-Prime
. This world blends elements of the last five universes existing prior to the Crisis. This world existed until the events of Infinite Crisis and the creation of New Earth. This world is dubbed "Earth 2" by the Antimatter Lex Luthor who dubs his own world "Earth 1". Fans have often called this "Earth-Sigma," as Sigma means summation—in this case, the summation of five other universes. First appeared in Crisis on Infinite Earths #11 (February 1986).
SCOOBY-DOO 2: MONSTERS UNLEASHED (LIVE ACTION FILM)
Release Date: 2004 (Contemporary Setting)
Series: Scooby-Doo (Live Action)
Animated Series Crosses: Bugs Bunny; A Pup Named Scooby-Doo; Scooby-Doo Where Are You
Other Crosses: So You Think You Can Dance
The Story:
Now back in operation as Mystery, Inc., the team must solve a mystery in their home town, as a museum is opening in their honor. Many classic monsters from the original series return in this film.
Notes: Sequel to the 2002 live action film. Scooby transforms into the Looney Tunes Tasmanian Devil after ingesting a formula. There is a flashback to their early days from A Pup Named Scooby-Doo. Additionally, the setting of this film is in the gang's hometown of Coolsville. In the classic cartoons, the gang was always travelling. A Pup Named Scooby-Doo was the first appearance of Coolsville. Many classic foes from Scooby-Doo Where Are You appear or are referenced. A janitor is auditioning for So You Think You Can Dance.
SCOOBY-DOO! MOON MONSTER MADNESS--
It's an out-of-this-world adventure as the Scooby gang wins seats on a space tour ship. But when a hostile creature shows up, are they equal to this alien threat?
The gang retelling an alien invasion from different perspective is a call back to a
A Pup Named Scooby-Doo
episode.
The Alien is designed much like a Xenomorph from
Alien
.
SCOOBY-DOO! THE MYSTERY BEGINS--A new origin for the group, which contradicts Pup, which was referenced in Scooby-Doo 2, but also is a prequel to the 2002 live action film, so... The gang seem to be 15 with Shaggy a year older. He's in the team because he is the only one who can drive and has a van. It should be noted it is Shaggy's van, though when Fred gets his license, he ends up doing all the driving.
A Huckleberry Hound bobblehead is on the dashboard of the van. Probably this means other HB characters are not real in this reality. They are fictional characters.
SCOOBY-DOO! WRESTLEMANIA MYSTERY--Part of a series of Hanna-Barbera team-ups with WWE. This includes other team-ups between the WWE and the FLINTSTONES and THE JETSONS. This cartoon film brings in the fictional world of the WWE, and its predecessor, the WWF. I like to think that includes the old cartoon, HULK HOGAN'S ROCK'N'WRESTLING. Sgt. Slaughter also appears, a member of both the WWE/WWF and G.I. JOE. Also seen at home watching the event on TV are the girls from YOUNG JUSTICE. If the Young Justice series is in this timeline, that actually works out just fine for me. In a period after Infinite Crisis but before Flashpoint, the Young Justice Universe was Earth-16. We know that most Scooby universes are DC Comics variant realities as well, so for our purposes, perhaps this 21st Century Scooby revival animated film series and YOUNG JUSTICE exist in "TVCU-16" or "Cartoon Universe-16". There is also a mention that luchadores are wrestlers who live long legacies and in their spare time are known to fight the evil forces of the supernatural. This is of course a reference to the fictional films featuring such wrestlers as EL SANTO and BLUE DEMON, among others. Though this film came out in 2014, it should be set in 2015 because Kane is seen in his mask in the film. In 2014, he was wearing a suit in the WWE, and returned to his mask in 2015. Note that John Cena plays himself in this film, and has also played himself in TRUE JACKSON VP, PARKS AND RECREATION, and HANNAH MONTANA. Of course, he's not the only wrestler to have appeared elsewhere, and at some point, I, or someone smarter than me on all things wrestling like Matt Hickman, will post some chronologies around the fictionality of wrestlers. This film states that all the WWE wrestlers live in character in the fictional WWE City. That sounds about right. It seems that in the fictional wrestling universe, this is where all the pay-per-view wrestling events actually occur.
The trailer has someone singing the first lines of
What's New, Scooby-Doo?
.
The opening credits shows many clips from the original show.
Velma's excitement over the wrestling match in the climax is probably a reference to
A Pup Named Scooby-Doo
, where Velma was shown to be a huge wrestling fan.
Shaggy refers to Vince McMahon as "The Higher Power," a reference to the Corporate Ministry storyline. Vince responds with "
Yes, thanks for that trip down memory lane.
"
Shaggy's comment on AJ Lee being "Kane with lipstick" is probably a subtle reference to her 2012 storyline where she actually dressed up as Kane once and was shown to be even crazier than the Big Red Monster himself.
Miz yells at the Ghost Bear calling it
Yogi
.
Scooby gets into a chase with a raccoon. This was the schtick of another Hanna Barbera dog, Buford. Note that Vince McMahon mentions having met a talking dog before. He's referring to his time travel trip to the future when the WWE crossed over with THE JETSONS.
TVCU-33-Earth-Prime/real universe/reality tv--CARTOON ALL-STARS TO THE RESCUE is a story of a girl who is worried about her brother using drugs. Her toys come to life, including her Slimer Ghostbusters action figure. When they come to life, they are they take on the form and persona of the characters from the animated shows, like REAL GHOSTBUSTERS, they are based off of. For the record, the other toys that come to life are characters from DUCKTALES, WINNIE THE POOH, THE TEENAGE MUTANT NINJA TURTLES, LOONEY TUNES, ALVIN AND THE CHIPMUNKS, THE SMURFS, ALF, GARFIELD, and THE MUPPET BABIES. Note that this does not connect these characters in their home realities. These are merely toys adopting the characteristics of the characters they portray.
WHAT'S NEW, SCOOBY-DOO!--This new updated version of the team aired following the live action film and during the era of the revived animated film series. In this series, they are now wearing modern clothing, rather than their 70s outfits. Though the first live action film has them in classic garb, in the second film they also wear modern garb. In the prequel, Scooby-Doo! The Mystery Begins, the ending credits are accompanied by the theme to What's New, Scooby-Doo. I believe this film can fit in both the live action and new animated film series timelines. In the original series the characters were teenagers, with Velma being the youngest at fifteen. Here they all seem to be in their late teens to early twenties. In the episode "New Mexico, Old Monster, there is a cameo appearance of the Road Runner and Wile E. Coyote! It's been pretty consistent that every Scooby reality also includes some version of both DC Comics and Looney Tunes characters. Of course, Warner Bros. owns DC, HB, and Looney Tunes. Shaggy and Scooby once won a contest where the prize was either a trip to Aruba or a tour of the Scooby Snack factory in
Munchville, Ohio
. And the factory was run by a man dressed like
Willy Wonka
. Hex Girls made an appearance. This series features a major revelation. The Mystery Machine used to belong to the Mystery Kids, a musical group that starred a brother and a sister. They appear in the episode "It's Mean, It's Green, It's the Mystery Machine", where their mother has been attempting to arrange a return to stardom for them. They decide at the end that they're happier being nobodies. This show is often genre savvy a LOT; every episode has to parody the classic Scooby-Doo formula in some way. And in the recurring adult themes... In "A Scooby-Doo Halloween", Velma's cousin Marcy says that she's turning 18, "Able to legally... vote." While giving Fred a flirtatious look that would've been toeing the line on its own. Brett Hull, Mike Piazza and skateboarders Chris Klug and Ryan Sheckler are among the celebrities to appear on the show in cartoon form. In "A Scooby Doo Valentine," the perps who disguised themselves as the gang are unmasked to be caricatures of their voice actors — Frank Welker (Fred), Casey Kasem (Shaggy), Grey DeLisle (Daphne) and Mindy Cohn (Velma). One-shot character Mr. Wackypants ("Riva Ras Regas") greatly resembles his voice actor, Rip Taylor. The flashback scene of Velma's birthday party in "A Terrifying Round With A Menacing Metallic Clown" is designed in the style of
A Pup Named Scooby-Doo
. It explains Velma's fear of clowns—the clown hired for her party destroyed her prize gift, a set of encyclopedias, and it made Velma run off crying. The episode Simple Plan and the Invisible Madman pays homage to
The New Scooby-Doo Movies
, where celebrity guest stars in animated form helped the gang solve cases.