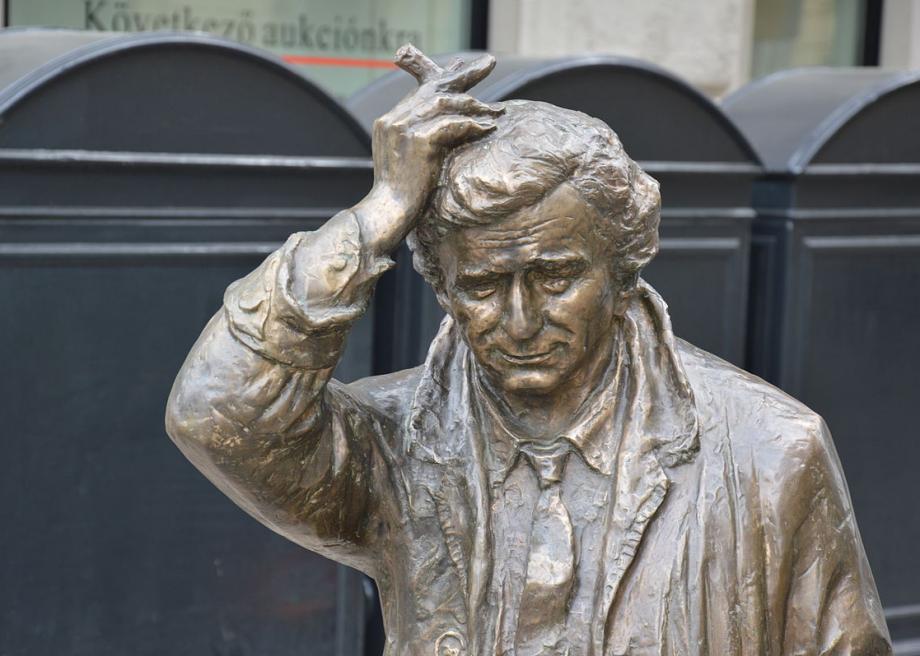 1960--THE CHEVY MYSTERY SHOW--"Enough Rope"--Lt. Columbo (Bert Freed) investigating the murder of a psychologist's wife.
1961 to 1962--87TH PRECINCT--Another find from Gordon:
Two episodes were based on stories from Ed McBain's 87th Precinct series, airing in the ABC films, and one actually has an 87th Detective, Arthur Brown, that I could confirm. These books are set in a thinly-disguised New York, so we can say Arthur came out to visit for the wedding of Columbo's nephew (even if it appears he's an LA cop). A bunch of 87th stories have made it in to an 87th TV show or as TV movies or theatrical films (Akira Kurosawa even adapted one and used the music from Toho's H-Man, which should tickle Chris), and there was a Sixties comic and a Swedish graphic novel, too. The 1972 film Fuzz was set and filmed in Boston, but that can help hide the truth---the story had a recurring arch villian for the 87th who is a cross between Moriaryy and the Riddler, leaving mysterious clues.
One of the 87th detectives appeared in the author's Matthew Hope series. And one of the detectives appeared in The Stand, so AU.
' Some of McBain's cop's names, including Meyer Meyer, Bert Kling and Roger Havilland, are seen in a duty roster posted on a squad room wall in the original 1962 film version of Cape Fear. At the point the film was made, over a dozen 87th Precinct novels had already been published. '
Although that film was set in North Carolina, from the book The Executioners, I suppose the named cops could be visiting, just as Brown visited Columbo in the aforementioned film.
1962--PRESCRIPTION: MURDER--The first appearance of Lt. Columbo was in a stage play played by Thomas Mitchell.
1966--PENELOPE--
Pj Lozito
theorizes that Peter Falk's character in this film is actually Lt. Columbo, though he's named Lt. Bixbee.
1968 to 2003--COLUMBO--A really smart detective plays dumb to get the bad guys.
1969 to 1974--THE BRADY BUNCH--From
Matt Hickman:
Some Station Crossovers I found 1. In Wayne's World 2 the Local Rock Station in Aurora, Illinois is WPIG 95.7 on WKRP in Cincinnati WPIG was the Cross town rival to WKRP. Now they are in 2 Different towns But Maybe Between 82 and 93 WPIG became a Network with Affiliates all over the U. S. 2. From the Wiki page List of fictional television stations KBEX-TV (in film):Dawn of the Dead (as Milwaukee TV station)[1],Moving Violation,Runaway,Scream KBEX-TV (in television):,Barnaby
Jones[2],Brady Bunch[3],Charlie's Angels[4],Columbo (Season 2, Episode 6),Crazy Like a Fox (Channel 6, San Francisco),Dante's Peak (Channel 5),Emergency!,MacGyver (as TV and radio),Mannix,Mission: Impossible,Starsky & Hutch,$weepstake$ (Channel 6, Hollywood)[5],Walker, Texas Ranger[6],What's Happening!![7] Could Prehaps also be a Network or at Least a Cable Channel much like WGN 3.WNDY - Short-lived TV series "WIOU" about the news department of a fictional television station whose actual callsign was WNDY, but which was nicknamed WIOU by its staff because of the station's financial struggles. WNDY Is also the Fake Radio Station you listen when Waiting in line For the TwisterTwister...Ride it Out at Universal Studios Florida It's Set in Wakita Oklahoma Druing the Film so they Might Be Sister Stations or owned By the Same Company
1970--COLUMBO: THE HELTER SKELTER MURDERS--A young Columbo was one of the detectives responsible for arresting Charles Manson.
1971 to 1977--THE ELECTRIC COMPANY--Columbo, Kojac and Sherlock Holmes often worked together on cases in this series. Morgan Freeman played Holmes, who was likely yet another great detective with the syndrome.
November 1972--COLUMBO--"The Most Crucial Game"--At the airport, there is an announcement regarding Trans Global, the airline from AIRPORT.
November 1972--COLUMBO--"Dagger of the Mind"--Columbo is in London where a chap from Scotland Yard is talking about Sherlock Holmes as a real historical figure. Columbo also visits the Diogenes Club. Read more about that here. Also, Toby has covered a LOT more about Columbo. Just go to his site and put Columbo in the search box, then enjoy.
January 1974--COLUMBO--"Publish or Perish"--Columbo considers writing a book. We can presume he did, and perhaps it even became a TV series, which could explain all the references to Columbo in other series that also take place in the same TVCU. Read more about this here.
March 1974--THE ROCKFORD FILES--"Backlash of the Hunter"--Columbo's car is seen. Columbo's car also appeared in an episode of ADAM-12.
September 1974--COLUMBO--"An Exercise in Fatality"--Columbo meets Milo at the same beach that Jim Rockford lives. He walks past the restaurant outside Jim's trailer.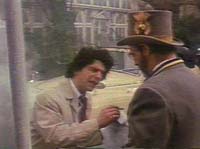 September 1975--THE STRANGE CASE OF THE END OF CIVILIZATION AS WE KNOW IT--
The grandson of the world's first and foremost consulting detective and his bumbling, bionic sidekick attempt to catch the only living descendant of Professor Moriarty.
An essential for all crossover scholars. Sherlock Holmes' grandson, played by John Cleese, throws a party and invites Lt. Columbo, Sam Spade, James Bond (only M shows up), McCloud, Hercule Poirot, Steve McGarrett of Hawaii 5-0, Ironside, and "Kojak" (really Holmes Jr. in disguise). They can be seen from 36:00-41:45, being murdered by Moriarty (in disguise as Watson).
For honorary mention, a Henry Kissinger-alike named Gropinger is murdered at the beginning of the film.
1975--THE TONIGHT SHOW--Columbo is persistent.
November 1975--COLUMBO--"Identity Crisis"--
Nelson Brenner, a top CIA operative, is really a double agent who finds it necessary to rid himself of a fellow spy and make it look like a mugging. Brenner inadvertently leaves tiny clues in a photo shop at a carnival, on Brenner's corpse at the beach, in a tape recording he makes while in his Agency-approved identity as a speech-writing consultant - the kind of clues that no one would ever pick up on. No one, that is, except the rumpled, redoubtable Lt. Columbo. The indefatigable detective will find himself followed by mysterious agents, visited by the top man himself and entertained with a recording of "Madame Butterfly" in Brenner's own mansion before solving this difficult case.
(IMDB). Toby O'Brien says "
My all-time favorite TV series is 'The Prisoner', so just for the opportunity to see Patrick McGoohan as the guest star would have been enough. But the episode (directed by McGoohan) is full of allusions to 'The Prisoner' - visual imagery referring to "#1", the design of McGoohan's windbreaker, the phrase "Be Seeing You".... Plus McGoohan's line readings are brilliantly off-kilter - just the way he says "I know!" is a pleasure."
Sidney Graham
adds:
"When the Director reveals himself and his Agency's involvement in the murder to Lt.
Columbo
, he shows a card identifying himself as "Phil Corrigan, Secret Agent X-9," which is actually the title of a vintage newspaper comic strip and the name of its hero, created by Dashiell Hammett..."
The actor playing Phil Corrigan is the right age to have been the original character.
When Columbo is admiring Brenner's pictures on the wall, there is a photograph of Patrick McGoohan in costume as Mary, Queen of Scots' illegitimate half-brother James Stuart, Earl of Moray from Mary, Queen of Scots (1971).
March 1976--COLUMBO--"Last Salute to the Commodore"--Again from
Sidney Graham
:
The Commodore who was murdered is named Otis Swanson. In the Perry Mason episode "The Case of the Dead Ringer", the murder victim is also named Otis Swanson. Jackson Gillis is credited as the writer in that episode as well as this one.
Both plots seem to involve sailors.
1976 to 1977--THE MUMBLY CARTOON SHOW--Mumbly is a cartoon dog character famous for his wheezy laugh, voiced by
Don Messick
. Mumbly appears to be the twin brother of
Muttley
from the animated series
Wacky Races
and
Dastardly and Muttley in Their Flying Machines
. Like Muttley, Mumbly does not really talk; he mumbles and grumbles unintelligibly, and often uses his trademark snicker. Detective Lieutenant Mumbly's boss is Schnooker (inspired by
Telly Savalas
'
Kojak
detective and voiced by
John Stephenson
), an aptly named egotistical police chief who tries to take credit for nearly all of Mumbly's heroic deeds. Mumbly may have been inspired by
Peter Falk
's TV character
Columbo
, as the two share a similar sartorial style and speech patterns. In addition, both are police lieutenants, wear trench coats, and drive old broken down cars. A further link is that
Muttley
was based on a similar premise to Peter Falk's character Max Meen in
The Great Race
. The Mumbly character first appeared on "The New Tom & Jerry Show".
October 1976--COLUMBO--"Fade in to Murder"--Actor Ward Fowler plays a Detective Lucerne on a soap opera. The character is definitely inspired by Lt. Columbo and may be a poor adaptation or blatant rip-off of the character from Columbo's book. Toby O'Brien also has some added Toobworld connections to THE DICK VAN DYKE SHOW and BAYWATCH which you can read here.
1977 to 1982--LOU GRANT--
Columbo
,
Wonder Woman
,
Matt Houston
,
Remington Steele
,
Moonlighting
,
City of Angels
,
Burke's Law
(1994), and
24
all featured the
Los Angeles Tribune
, the fictional newspaper from
Lou Grant
.
Winter 1978--LUPIN III--"You're Sapphired!"--Lupin III tries to steal a jewel from a philanthropist Ellery A. Queen, of the Ellery Queen Foundation. This is probably the son of the brilliant sleuth. Lupin is thwarted by a kid detective named Boronco from the LAPS, who is the son of the celebrated Lt. Columbo.
Just before February 1978--SUPERMAN VS. MUHAMMAD ALI--T
he cover art for Superman vs Muhammed Ali shows cameos of several real and fictional characters, including the teacher and students from WELCOME BACK KOTTER, Columbo, and Lucy! A
nd Donny & Marie Osmond, Sonny & Cher, the Jackson 5, etc.
1978--THE DEAN MARTIN CELEBRITY ROAST OF FRANK SINATRA--Columbo roasts Frank. Watch it here.
1979 to 1980--MRS. COLUMBO--Originally, this was meant to be a spin-off of Columbo, featuring the Mrs. Columbo that is often referred to. However, they quickly decided they didn't want this to be THE Mrs. Columbo and changed the title to KATE THE DETECTIVE and then KATE LOVES A MYSTERY. Gordon Long adds:
When Dean Martin roasted Frank Sinatra, Falk came out as Columbo and participated in the roast, referring to a wife named Rose. (Two sisters of hers whose names started with R, Ruth and Rita, were mentioned at different times.) When Columbo said she wa
s watching at home, Frank said 'Hi Rosie' as though she were real and an acquaintance of his. I have an idea that kinda ties into PJ's idea, Sinatra was the first actor to play New York police officer John McClane, so I think Columbo met Frank when he was a technical advisor for the film The Detective. Columbo has two brothers George and Fred; Fred convinced him to move to California. When Kate got divorced, she suddenly had an ex hubby named Phillip, whom I guess is another brother (he has a huge family). Read Thom Holbrook's thoughts here.
Late 1970s--TOOBWORLD--"Fanficcer's Friend: McCloud, Fish & Columbo"--
Read it here.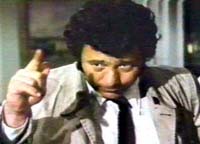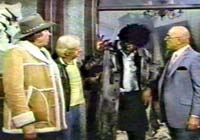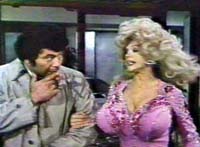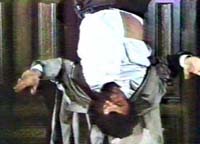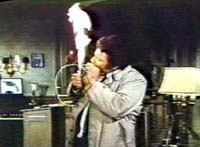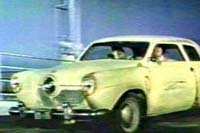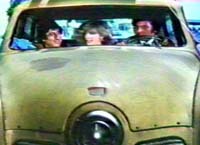 1980--MURDER CAN HURT YOU--Parody crossover that should count just as much as MURDER BY DEATH. This parody crosses over COLUMBO, IRONSIDES, STARSKY AND HUTCH, MCCLOUD, and BARETTA.
March 1986--MATLOCK--"Diary of a Perfect Murder"--Matlock may have been inadvertently assisted by Lt. Columbo.
Read more here.
October 1986--MAGNUM PI--"AAPI"--Mike Stone (THE STREETS OF SAN FRANCISCO), KOJAC AND COLUMBO are all at the detectives convention in Hawaii. Jim Rockford was also intended to be in the episode, but they couldn't get James Garner to agree to the crossover, but since the writers intended it, we can assume he was there too and we just didn't see him. Toby also believes Mike Stone is the character seen in those classic American Express commercials. Don't leave home without it. Matt Hickman adds:
Not a Columbo crossover presay but I've always thought the Convention Mr Monk,Shawn Spencer and John Smith attended in the USA network Monk Dead zone Pysch crossover ads was the same one from Magnum just a diffnert year
1987--THE PRINCESS BRIDE--Two fan theories: One is that the grandfather is a retired Lt. Columbo. The other is that the grandfather is the Dread Pirate Roberts.
1988--CLUE??--
A multitude of familiar spies, secret agents and detectives are gathered together in a remote country mansion for mysterious reasons. The going gets rough when they begin dying one by one... Featuring COLUMBO, MIKE HAMMER, IRONSIDE, NANCY DREW, April Dancer (THE GIRL FROM UNCLE), THE HARDY BOYS, and JAMES BOND.
1991--USA UP ALL NIGHT--"Episode 26"--Rhonda meets Columbo.
1993--COLUMBO: THE GRASSY KNOLL--From James Bojaciuk:
This post started life in the comments of John D. Lindsey Jr's Brian Keen post, but it makes more sense to put it here. I really wish there were more Tales of the Shadowmen-esque stories that worked out what happens when historical events are overwhelmed his secret history, time travel, and magic.
The JFK assassination, for instance, was visited by two Doctors (Eight and Nine), Sherlock Holmes (who received no leads and was confounded by the number of shooters; this may have
been Solar Pons, but this aside is too long already), Jake Epping (from King's 11/22/63; perhaps the Doctors where there to fix his monkeying with time), and a very young Walker Texas Ranger.
The Killers, in the TVCU: Oswald (who was possessed, sometimes, by Sam Beckett from Quantum Leap), the Grassy Noll shooters, Joe DiMaggio (100 Bullets; he also noted an impossible number of other shooters), John Dillinger (The Illuminatus! Trilogy), Harry Coin, (The Illuminatus! Trilogy), a mafia gunman stationed on top of a restaurant (The Illuminatus! Trilogy), an unknown shooter (The Illuminatus! Trilogy), James Stevens (Doctor Who: Who Killed Kennedy?), Wolfram and Hart getting revenge on Joe Kennedy (Angel), an assassin named the Viper (Walker, Texas Ranger), and an unnamed conspiracy assassin
(
Columbo
: The Grassy Noll); the Cigarette Smoking Man claims to have shot JFK, but he's a liar. Lupin III adds an elite team of killers from a secret society from within Alcatraz.
Further, the bullets that killed Kennedy (putting aside the question of whose bullets actually hit) were cast from the stone that Cain used to kill Able (Borges' "In Memoriam, J.F.K.").
The Seventh Doctor blames the whole affair on Nemesis' nearness to Earth (Silver Nemesis).
I dare someone to make all of this make sense.
1996--CASE CLOSED--Columbo is referenced in the Detective Conan series as a real person.
1996--COLUMBO: THE HOFFA CONNECTION--
When a racy, beautiful rock mega-star is found floating dead in her Beverly Hills swimming pool, Columbo, America's favorite TV detective launches an investigation that takes him all the way to the coast of Italy, to the birthplace of the mafia. But to solve this case, Columbo must first tackle on of the most publicized and puzzling mysteries to sweep the United States--the disappearance of Jimmy Hoffa exactly twenty years ago.
2000--THE KINDAICHI CASE FILES, VOL. 13: HOUSE OF WAX--Teen sleuth Kindaishi Hajime works with another teen detective, Edward Columbo, who is the nephew of a noted L.A. detective, who we can clearly presume is Frank Columbo. (Note Columbo's first name is never said in any Columbo story, but in "Dead Weight" from Season 1 Episode 3, it says Frank Columbo on his badge.)
Detective Bobby Goren is the man. First of all, if the original Law & Order is Wolf's homage to Dragnet, surely Goren is an homage to Columbo. And what's also awesome is Bobby takes on special cases, which border on evil criminal geniuses to some extent. How cool is that. A show anchored in realism taking on villains who are one step away from taking on Superman or James Bond.
Summer 2002--ABC'S 50TH ANNIVERSARY CELEBRATION--Sydney Bristow (ALIAS) meets COLUMBO.
2007--NATIONAL TREASURE: BOOK OF SECRETS--Is it another case of lazy architecture, or are all three the same location. The set used for a scene in this film previously appeared in Columbo "Dagger of the Mind" as the home of Sir Roger Haversham and then later in Remington Steele as an English manor.
March 2012--COUGAR TOWN--"A One Story Town"--From Toby O'Brien:
I'm writing this up for the Toobworld Dynamic - it's the sort of thing viewers probably ask themselves when they watch other shows. Like on
'
Columbo
' - how come he never noticed a good percentage of his murder suspects looked like either Robert Culp, Jack Cassidy, or Patrick McGoohan? (Not to mention all the other characters who looked like Vito Scotti or my buddy John Finnegan!)
Alternate Realities:
ANNO DRACULA UNIVERSE--Columbo appears in "The Other Side of Midnight" (1981). This story also crosses over AU versions of CURSE OF THE UNDEAD, THE BRIDES OF DRACULA, VAMPIRE JUNCTION, VANITAS, LOVECRAFT'S CTHULHU MYTHOS, SALT AND PEPPER, CHRISTINE, MISERY, CARMILLA, BLACK SUNDAY, BUFFY THE VAMPIRE SLAYER, BARBIE, THE WEST PIER, MR. STIMPSON AND MR. GORSE, UNKNOWN ASSAILANT, THE CHARMER, L.A. CONFIDENTIAL, THE FEARLESS VAMPIRE KILLERS, THE ROCKFORD FILES, CHIPS, ROSEMARY'S BABY, ANNE RICES'S VAMPIRE NOVELS, FRANKENSTEIN (UNIVERSAL), DRACULA, SHADOWMAN, THE LATE SHIFT, GIDGET, BOOGIE NIGHTS, CHINATOWN, WEREWOLF OF LONDON, LITTLE SHOP OF HORRORS, DAY OF THE TRIFFIDS, DARK SHADOWS, THE BIG LEBOWSKI, TEXAS CHAINSAW MASSACRE, THE HOWING, GREMLINS, SINGIN' IN THE RAIN, WHAT EVER HAPPENED TO BABY JANE?, SUNSET BOULEVARD, BEVERLY HILLBILLIES, TOUCH OF EVIL, CITIZEN KANE, THE PLAYER, BLUE MOVIE, THE WORKS OF F. SCOTT FITZGERALD, HOLLYWOOD BOULEVARD, BODY DOUBLE, SUCKERS: BLEEDING LONDON DRY, and AMERICAN GIGOLO. Of course the greater Anno Dracula series has even more crossovers. I list a good number of the horror related ones in the Horror Crossover Encyclopedia but Win Scott Eckert lists all of them, horror and non-horror, in Crossovers: A Secret Chronology of the World.
FANFIC--I don't usually count Fan Fic unless a legitimate source decides to endorse it. But this is a good site for Columbo Fan Fic. It includes crossovers with KOLCHAK, DUE SOUTH, MASH and X-FILES.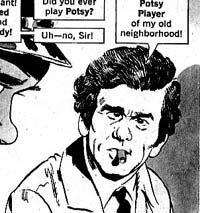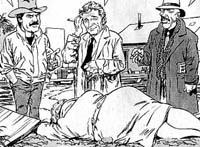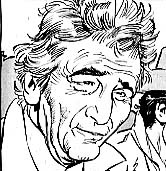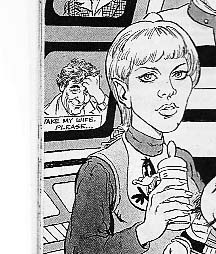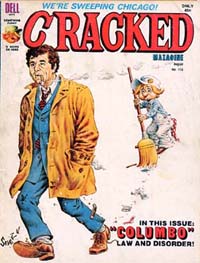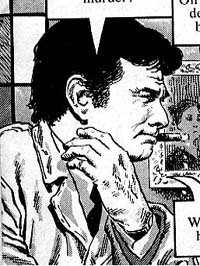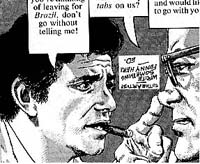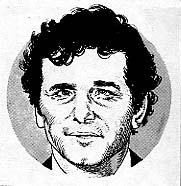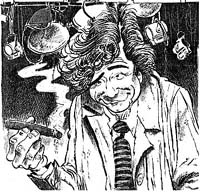 MAD--Shown to be a distinct alternate reality in Batman: The Brave and the Bold, though some might argue that this is the same Cartoon Universe as the Bongo Universe due to its connections to the Simpsons and Family Guy. This universe has had a number of Columbo parodies, in both Mad and Cracked, Mad's competitor which exists in the same universe.
SKITLANDIA--More parodies can be found here.
The TVCU Crew gave me a LOT of additional info on Columbo that just didn't work for this post but is still quite interesting. If you'd like to learn more or if you have something to add, please join us at our Facebook group.